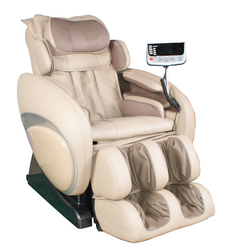 "We're seeing a large number of customers who are trying to find more value for a lower price, but when they find it, they are buying." Doug Marks, MassageChairs.com
Sandpoint, Idaho (PRWEB) October 9, 2010
Online massage chair dealers are cautiously optimistic that the long-running recession is on its way out, and it's showing in their purchasing plans for the upcoming Christmas season. Sales for one leading massage chair dealer, MassageChairs.com, are rebounding in a dramatic way, and customers appear to be back in the market for luxury items. "Things are looking up," said Doug Marks, Vice President of ClickShops Inc., which owns and operates MassageChairs.com. "We're seeing an increase in sales over this time last year, and in some cases, things are so good that some of our manufacturers anticipate having difficulty filling orders."
Things seem to be especially good for chairs in the mid-priced range. "We're seeing a large number of customers who are diligently trying to find more value for a lower price, but when they find it, they are buying," said Marks. "We're worried we'll get into the Christmas season and run out of our best chairs."
One of the chairs in this range seems to be doing better than other chairs, and in order to protect its stock of the most popular color of this chair, MassageChairs.com has agreed with Osaki Massage Chairs to be the exclusive supplier this Christmas season for all of Osaki's cream-colored OS-4000 massage chairs and to buy out Osaki's entire inventory.
The agreement arises out of both the emerging economic improvements and the exceptional popularity of the Osaki OS-4000 massage chair, one of those chairs in the mid-priced range that catches the eye of value shoppers. The OS-4000 has quickly gone from just one of many chairs offered by MassageChairs.com, to the top of MassageChairs.com's offering. The cream-colored version is the most popular color.
"The OS-4000 has hit a sweet spot in the massage chair market. It offers the features and warranty of much more expensive chairs, but for a much lower price," said Marks. "When our customer service people tried it out, they absolutely fell in love. So we had to be sure we had as many as possible for our customers. We even bought one for our offices. I'm sure our new inventory will sell out fast, too."
Osaki agrees with that assessment and is looking forward to the new arrangement. Jack Dimirjian, VP of sales for Osaki Massage Chairs, says, "Here at Osaki we are very excited to be working with MassageChairs.com. We have worked so well together in the last year, and we have decided to further our relationship in giving sole distribution of the Osaki OS-4000 cream to MassageChairs.com. Account representative Kessin Drews shows an excellent example of what customer service is all about. Please feel safe in ordering our chairs from our leading distributor MassageChairs.com."
Hopefully, the experience of MassageChairs.com is being felt by others in this economy. As manufacturers sell out, they'll hire more people, who will also be able to buy more, creating even more growth. But for online specialty companies like MassageChairs.com, getting ahead of the curve is the way to go.
So if you're asking, "does anyone still have the OS-4000 massage chair in cream?" the answer is yes— MassageChairs.com. A growing economy floats all boats, but if you want your boat to be outfitted with an Osaki OS-4000 massage chair, you'd better buy it now.
# # #