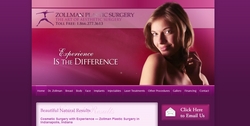 Indianapolis, IN (Vocus) October 8, 2010
At Zollman Plastic Surgery, Dr. Wally Zollman's Indianapolis plastic surgery practice, the doctor says he has been working to support a dramatic increase in cosmetic procedures performed during the first decade of the millennium by further improving the safety and effectiveness of the breast augmentation procedure. Dr. Zollman specializes in submuscular breast augmentation in Indianapolis, which means he places the implant beneath all three chest muscles. He says the submuscular technique helps patients achieve more natural-looking results that can last up to 30 or 40 years, with a decreased likelihood of wrinkling or rippling.
As part of the procedure for breast enlargement in Indianapolis, Dr. Zollman says placement of the implant beneath all three chest muscles enables him to provide a number of benefits for his patients. First, in patients that are thin-chested, or those that have breasts affected by sagginess, Dr. Zollman says utilizing submuscular breast augmentation may eliminate the need for a mastopexy, or breast lift. Additionally, he says the chest muscles allow for a more natural appearance, and serve as a built in elastic bra, which alleviates a majority of the weight strain typically placed on a patient's back and shoulders, and allows for more support when leaning forward. He adds that the breast implants are less likely to bottom out and typically droop less than other breast augmentation procedures.
By employing the submuscular technique for breast implants in Indianapolis, Dr. Zollman says the implants are more likely to be better protected, and allow for easier mammograms. The patients also experience freedom of choice with the implants for the future, as Dr. Zollman says if the implants are ultimately removed, the muscles and skin will return to the position they were in before the implants were placed. When considering the increased versatility of the submuscular breast augmentation technique, especially with regards to the future benefits of the procedure, Dr. Zollman says his Indianapolis practice expects to see a continued increase in the amount of cosmetic surgeries in the next decade of the millennium.
About Dr. Zollman
Dr. Wally Zollman earned his medical degree from the Indiana University School of Medicine. He then completed his plastic surgery residency at the University of Mississippi School of Medicine. Dr. Zollman is certified by the American Board of Plastic Surgery, has lectured on an array of plastic surgery topics at the national and international level, and is currently a member of the American Medical Association, the American Society of Plastic Surgeons, and the Indianapolis Medical Society, among many others.
Dr. Zollman and his Indianapolis practice, Zollman Plastic Surgery, can be found at 8227 Northwest Blvd. Suite #290 in Indianapolis, IN 46278 and can be reached at (866) 277-3613 or http://www.zollmansurgery.com/
###