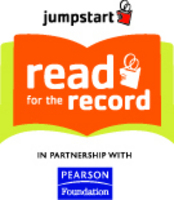 We are so pleased by the number of mayors, city council members and county commission leaders who got involved with Read for the Record this year, both those who participated for the first time and those who celebrated their fifth anniversary with the campaign
New York, NY (PRWEB) October 7, 2010
Today, mayors across the U.S. took part in Jumpstart's Read for the Record™, a nationwide campaign to set a new world record for the largest shared reading experience on a single day. Starting this morning at the TODAY Show in New York City, Mayor Michael Bloomberg kicked off the fifth annual day of reading. Throughout the day the nation's mayors joined children in schools, community centers, libraries, and colleges, and--for the first time ever--the campaign book is available online at http://www.wegivebooks.org. Read for the Record brings together adults and children to show support for young children and to showcase the role reading plays in a young child's life.
Presented in partnership with the Pearson Foundation, Jumpstart's Read for the Record encourages record-breakers to spread the word that reading with a child before he or she enters kindergarten can improve his or her chances of graduating from high school by as much as 30%. Today dozens of mayors and community leaders joined 2.5 million children that took part by reading The Snowy Day by Ezra Jack Keats. In the process, Jumpstart and the Pearson Foundation drew attention to the growing crisis for disadvantaged young children whose literacy experience is limited and to Jumpstart's role in addressing this issue.
"We are so pleased by the number of mayors, city council members and county commission leaders who got involved with Read for the Record this year, both those who participated for the first time and those who celebrated their fifth anniversary with the campaign" said Pearson Foundation President Mark Nieker. "We believe that involving local dignitaries and community members is critical to bringing everyone together to help raise awareness about the importance of early literacy."
The Pearson Foundation thanks the dozens of mayors and local community leaders who participated today in reading events large and small with children in their cities.
This year ­ for the first time ever, We Give Books is making it possible for everyone to read the official 2010 Read for the Record Campaign book, The Snowy Day, for free, online at http://www.wegivebooks.org. Through We Give Books, the Pearson Foundation has made available an ever-growing library of digital children's books that is free all year long. In fact, every time you read a book online with a child, the Pearson Foundation donates a book to a child in need.
About Jumpstart's Read for the Record
Presented in partnership with Pearson, Jumpstart's Read for the Record™, is an annual world record breaking campaign that brings children and adults together to read the same book, on the same day, in homes and communities all over the world. The campaign also kicks off Jumpstart's yearlong program, preparing preschool children in low-income neighborhoods for success in school and life. Since it's inception in 2006, the campaign has reached more than 3 million children and more than 750,000 books have been donated to children in low-income neighborhoods.
For more information, visit http://www.readfortherecord.org.
About Jumpstart
Jumpstart's mission is to ensure that all children in America enter school prepared to succeed. Year-round, Jumpstart recruits and trains thousands of college students and community volunteers to work with preschool children in low-income neighborhoods, helping them to develop the language, literacy, and social skills they need to succeed in school and in life. Since 1993, more than 70,000 preschool children across America have benefited from millions of hours of Jumpstart service. Jumpstart's national sponsors include American Eagle Outfitters, AmeriCorps, Franklin Templeton Investments, and Pearson. Jumpstart is the five-time recipient of the Fast Company/Monitor Social Capitalist Award (2004-2008) and has received a 4-star rating from Charity Navigator. For more information, visit the Jumpstart Web site at http://www.jstart.org.
About the Pearson Foundation
Pearson, the international education and information company, is Jumpstart's Read for the Record's Sponsor and Founding Partner. The Pearson Foundation extends Pearson's commitment to education by partnering with leading nonprofit, civic, and business organizations to provide financial, organizational, and publishing assistance across the globe. The Foundation aims to make a difference by sponsoring innovative educational programs and extending its educational expertise to help in classrooms and in local communities. For more information, visit http://www.pearsonfoundation.org.
About We Give Books
We Give Books (http://www.wegivebooks.org) is a new philanthropic program from Penguin and the Pearson Foundation that helps your child become a lifelong reader and giver. Together, we support literacy through programs that engage entire communities. Working around the world through programs like Booktime and Jumpstart's Read for the Record, Penguin and the Pearson Foundation have touched millions of lives in thousands of communities.
###