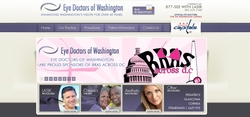 Washington, DC (Vocus) October 8, 2010
Widely known as specialists in LASIK eye surgery in Washington DC, the Eye Doctors of Washington (EDOW) will be switching gears to support another worthy cause on Friday, October 8th, 2010 at 8:00 am. October is National Breast Cancer Awareness Month, and in collaboration with the Kane Show and HOT 99.5, the doctors at EDOW will be hosting an event to collect donations and give away prizes to raise awareness for breast cancer. The doctors say they are looking forward to the effect this campaign will have on the community as a whole, as they join together to support the fight against a disease that is estimated to affect more than 200,000 women in 2010.
This October marks the 26th annual celebration of National Breast Cancer Awareness Month, which is a partnership of national public service organizations and medical professionals striving to promote awareness, education, and empowerment of everyone affected by breast cancer. As specialists focusing on providing their patients with LASIK in Washington DC and other effective vision care treatments, the doctors at EDOW say that supporting their community has always been a priority within their practice, which is why they are celebrating National Breast Cancer Awareness Month. The doctors say their ultimate goal is to improve the lives of their patients, regardless of the cause of their condition, and supporting breast cancer awareness does just that.
Whether performing vision correction procedures or cosmetic enhancements such as Juvederm™ in Washington, DC, the doctors at EDOW say they appreciate the chance to embrace such a worthy cause this October, and believe events like this are extremely important because they make a real difference in the well-being of patients within their community and across the nation.
About EDOW
The Eye Doctors of Washington have been providing high quality eye care for patients in Washington, DC for over 40 years, and was originally founded by a group of professors from the Center for Sight at Georgetown University. They specialize in all types of eye procedures, from routine eye exams, to vision correction procedures and treatment for eye diseases such as macular degeneration and glaucoma, as well as cosmetic procedures such as BOTOX® Cosmetic in Washington DC. All of the ophthalmologists at EDOW are certified by the American Board of Ophthalmology, as well as being fellowship trained in a sub-specialty of eye care. All of the members of EDOW have received scientific and medical awards, serve on a number of advisory boards, and are involved in the advancement of eye care through academic research.
The Eye Doctors of Washington have several locations through the Washington, DC area, which can be found either by calling (877) SEE WITH LASIK, or online at http://www.edow.com/
###