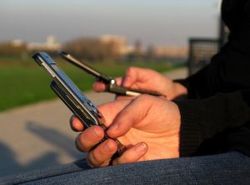 It's important for show organizers to know their existing options.
Austin, TX (PRWEB) October 12, 2010
As the first in a series of technology-focused buyer's guides for the trade show and events industry, MeetingTechOnline has released the Buyer's Guide to Mobile Apps: Professional Event Organizer and Corporate Event Planner Edition.
Designed to work as a comprehensive roadmap for event and trade show organizers wishing to adopt and optimize mobile applications for their events, the guide covers a range of relevant topics, including developing a mobile app strategy, choosing the right solution and provider, the pros and cons of native versus web-based apps, pricing models, revenue opportunities and best practices for organizing and optimizing the selection process.
According to Stephen Nold, president of Tarsus Advon and founder of MeetingTechOnline, this first guide is just one of many informational technology resources MTO plans to release in the effort to help educate show managers about technology. Professionals will not only be able to read case studies from management peers, but also select viable supplier candidates from a comprehensive directory, Nold said.
"Event and show professionals are challenged with sorting out technology solutions, yet they have an event to run, and who has time to conduct the research?" he added. "Moreover, how can you make a decision when you don't even know what you need to know? Anyone tasked with understanding and adopting innovation for events and tradeshows, from professional show organizers to corporate event planners, should subscribe to receive their free Buyer's Guide."
The release of the MABG couldn't be timelier. Professional event organizers and corporate event planners are becoming increasingly interested in using technology to enhance their events, so to overcome the learning curve and understand how to navigate this relatively new world of technology is key. When leveraged correctly, mobile solutions can allow organizers to extend the reach of their existing communication and information platforms, as well as enhance audience interaction and engagement. No one understands this better than the International Consumer Electronics Show.
"Mobile apps are a key strategic tool for the International CES and the trade show industry, as they provide crucial real-time information and connect attendees to the people and show highlights they are most interested in," said Tara Dunion, senior director of communications for the Consumer Electronics Association and International CES. "It's important for show organizers to know their existing options for implementing mobile apps for their events. This supplier's guide is a valuable resource for trade show professionals."
Print versions of the MABG will be available at the upcoming MTO Summit (http://www.mtosummit.com) and will be distributed at the International Association of Exhibitions & Events' Expo! Expo! in December in New Orleans. The second Buyer's Guide addressing Registration Solutions will also be available at that time. Online versions will be launched on December 1, while supplier information can be accessed at MeetingTechOnline.com.
For information on Buyer Guide Sponsorships, please contact Chris Anderson at canderson (at) tsnn (dot) com or 512-992-6297.
About MeetingTechOnline
MeetingTechOnline is a community portal established to provide technology information through research and reviews for the Meetings Industry. MTO brings together buyers interested in the latest innovation with suppliers seeking to provide education about their products and services. Prior to MTO, no single source in the industry offered opinions, ratings and feedback about technology based on interviews with the decision makers who are selecting and implementing these tools. Through MTO, suppliers obtain a reliable way to target customers and maximize Internet marketing resources. By enabling category advertising, MTO emphasizes the delivery of contextually relevant, unobtrusive messages intended to help buyers. MeetingTechOnline is the single source of technology education and information for the Meetings Industry.
About Tarsus Advon
Based in Austin, Tarsus Advon oversees online publications and community portals that provide technology information and education for the event and trade show industry. Tarsus Advon also conducts research with show organizers, technology suppliers and industry experts. Qualitative and quantitative data are respectively gathered through primary sources and survey analysis. Events are designed to educate event and exhibition professionals about the latest trends and developments in technology. Tarsus Group acquired Tarsus Advon in 2010.
###