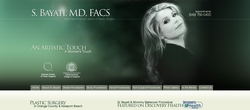 I feel confident in my appearance and think my new breasts complete the person I am now and the person I was before my battle with breast cancer… I cannot thank Dr. Bayati and her staff enough for their help and support in this chapter of my life.
Newport Beach, CA (Vocus) October 8, 2010
According to estimations from the National Cancer Institute, 207,090 new cases of breast cancer will surface in the United States in 2010. If the rate of occurrence continues at the current levels without the development of an effective cure for breast cancer, over 13% of women born today will be diagnosed with the disease. This October is designated as National Breast Cancer Awareness Month (NBCAM), and Dr. Semira Bayati and patients at her Newport Beach plastic surgery practice are celebrating the NBCAM mission statement of awareness, education, and empowerment to fight the disease in the present and protect girls and young women from it in the future.
As a board-certified plastic surgeon in Newport Beach, Dr. Bayati has performed a number of plastic surgery procedures, such as breast augmentation in Newport Beach. However, her work with breast reconstruction patients is making a significant difference for breast cancer survivors, including a patient that was diagnosed at the age of 29. Following the diagnosis, in cooperation with Dr. Lisa Guerra, Dr. Bayati performed a double nipple sparing mastectomy and breast reconstruction. While Dr. Bayati's patient says coping with breast cancer was unimaginable for her, she is grateful for her experience with Dr. Bayati. "As a young woman, being dealt the blow of losing both of my breasts at such an early age was overwhelming to say the least…The confidence that Dr. Bayati has given me in the physical appearance of my breasts is something I will forever be thankful for."
Due to the message the NBCAM organization espouses to encourage all women to be aware of the symptoms of breast cancer and conduct self-examinations supplemented with routine mammograms, Dr. Bayati's patient discovered the lump in her breast while at home. "My right breast was sore, and knowing how important it is to check yourself regularly, I felt it and found a small lump. Two and a half weeks later I was in surgery for my double mastectomy." Whether an unfamiliar mass has changed the size or shape of the breast, or pain is experienced in any area around the breast or underarm, Dr. Bayati and the NBCAM organization stress that each individual is the first line of defense against breast cancer. Once detected, Dr. Bayati says she remains conscious of the emotional, physical, and mental toll the entire treatment encompasses, and works with her patients to formulate the best surgical plan for breast reconstruction in Newport Beach, as evidenced by the glowing praise from her patient: "I feel confident in my appearance and think my new breasts complete the person I am now and the person I was before my battle with breast cancer… I cannot thank Dr. Bayati and her staff enough for their help and support in this chapter of my life."
While breast reconstruction may be required following treatment for breast cancer, which Dr. Bayati says can include a combination of procedures for breast surgery in Newport Beach following a mastectomy, early detection is essential to complete removal of the cancer, and provides the best chance for a full recovery. This October, the NBCAM and Dr. Bayati stress that a patient's vigilance regarding their particular risks are also necessary components in the fight against this type of cancer. They say that all women need to be aware of their family history and how it has been affected by the disease; they need to educate themselves concerning how breast cancer affects women of their race and ethnicity; they need to practice prevention by maintaining a healthy weight and limiting alcohol consumption; and realize that while all of this is important, there are still a number of unknown factors that can affect their risk of developing breast cancer.
As of January 1, 2007, the National Cancer Institute estimated there were approximately 2,591,855 women alive who had a history of breast cancer in the United States. With expanding research and methods of treatment, this number is likely to increase as survival rates for those affected by the disease rises, despite the fact that prevalence of this disease is expected to grow as well. Worst of all, there is no clear cure in sight. In addition to stressing the need for awareness and education for all of her patients, Dr. Bayati says she remains dedicated to empowering women across the U. S. and throughout her patient community by celebrating National Breast Cancer Awareness Month in Newport Beach this October.
About Dr. Bayati
Dr. Semira Bayati earned her medical degree from the Boston University School of Medicine, and completed her general and plastic surgery residencies at the Southern Illinois University School of Medicine. She completed a fellowship program at the Loma Linda University Medical Center, and is certified by the American Board of Plastic Surgery. Dr. Bayati is a member of the American Society of Plastic and Reconstructive Surgeons, the American Society for Surgery of the Hand, and the Undersea and Hyperbaric Medical Society. She has written and published a number of articles for various medical journals, and has given a number of presentations as well.
Dr. Bayati's Newport Beach plastic surgery practice is located at 20311 SW Birch St. Suite 200 in Newport Beach, CA 92660; and can be reached at (949) 756-0400 and http://www.drbayati.com/
###