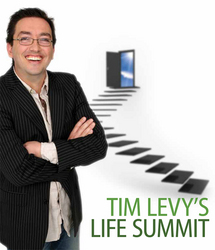 Transformation Cruise Retreat 2011 with Tina Michelle and Tim Levy
Orlando, FL (Vocus) October 7, 2010
Island Free Event & Travel Boutique will launch its first Cruise Retreat on Royal Caribbean's Freedom of the Seas on January 9-16, 2011. The "Transformation Cruise Retreat 2011 with Tina Michelle and Tim Levy" is designed to provide people an opportunity to step away from the ordinary and keep those New Year's resolutions. The Transformation Cruise Retreat's keynote speakers will provide resources to renew, uplift and empower our cruise guests spiritually, financially, physically, emotionally. The focus is not only their business acumen but also their overall physical well being. A portion of the proceeds will be donated to the philanthropic efforts in Haiti and the Gulf.
The list of speakers ranks among the top motivational and informational speakers in the world and include Tina Michelle Boursiquot, Tim Levy, DeLores Pressley, Veronica Conway, Kara Oh and Nicole Lovett. Each of these experts has been tremendously successful in their own right and have started from humble beginnings and worked through a process to attain success. Each speaker will provide interactive group and individual focus sessions throughout the week.
"Our guests will leave this retreat feeling a sense of renewal and empowerment," says Island Free Travel's owner Kim Creque-Jenkins. "It will be the gift that keeps giving, as we will provide our guests with tools for personal growth while providing some monetary support to organizations in need."
The Transformation Cruise Retreat has been consciously scheduled in January not only as a reflection of the events in Haiti which occurred approximately one year ago to the day of this retreat, but also as a time when most of us create resolutions and promises of renewal for the upcoming year.
The ports of call on this cruise include Labadee - Haiti, Falmouth - Jamaica, Cozumel - Mexico and Grand Cayman - Cayman Islands.
As a special introduction, The Transformation Cruise Retreat will be premised by an eco-friendly Green Carpet Pre-Launch Gala at the Doubletree Resort on International Drive in Orlando, Florida on January 8, 2011. This phenomenal event will include performances by Saunders Sermons, Conya Doss, Dwele and Kindred the Family Soul.
Regular & VIP Retreat Packages are available ranging from $700-$3500. A la carte tickets to various activities are also available to make it affordable.
"We want our guests to maximize their experience while remaining conscious of their pocketbooks," said Creque-Jenkins. "Only a $250 deposit per person reserves your space on the ship and payment plans are available for the balance of the cost."
About Tina Michelle Boursiquot
Tina Michelle Boursiquot is known as a Hope Ambassador. Professionally, Tina Michelle works directly with artists, producers and business owners empowering them while transforming their thinking as they realize their own potential. Her goal is to strategically position them for growth as they visualize their true value and strengths. Through coaching, business and artist development, she provides a prescription for learning utilizing a holistic yet measurable approach.
Her clients include best-selling authors, and Dove, Stellar, Grammy and Emmy Award winning performers. Tina Michelle is a model of integrity and speaks specifically to the entertainment industry through keynote presentations, panel discussions, curriculum design, and content creation supported by principles of authentic processes. She reaches a large audience via her Internet talk radio show about everyday people and celebrities generating change in their communities.
About Tim Levy
Tim Levy is an experienced writer, producer, and director with deep roots extending into the diverse worlds of business, environmentalism, comedy, spirituality, television and the world of children....areas that he finds can overlap in unexpected ways. The Life Summit is a culmination of his experience and his enlightenment, linking soaring spirit with grounded business strategies.
Tim Levy wrote his book, "The Life Summit," only after the constant urging of his clients. Levy came from the corporate world working with IBM, Acer, Lucent, Sony and 3COM. He quickly understood that you needed to add structure and strategy to positive thinking in order to achieve your perfect life. And with his six step plan, The Life Summit incorporates mind, body, spirit and business strategy.
About Island Free Travel
Island Free Event & Travel Boutique (IFETB) is a company which specializes in facilitating affordable luxury event & travel experiences. The company operates from two base locations: Houston, Texas and Cleveland, Ohio. Island Free's founder (Kim Creque-Jenkins) bases her expertise from more than a decade of experience in the industry, a keen business acumen and a strong desire to provide services of this nature to her clientele.
Video on the Transformation Cruise Retreat: http://www.youtube.com/watch?v=-TaCYZzNib8
For complete information please visit our website at http://www. islandfreetravel.com or contact Kim Creque-Jenkins at 832-472-6763 or via email at kimjenkins(at)islandfreetravel(dot)com
# # #