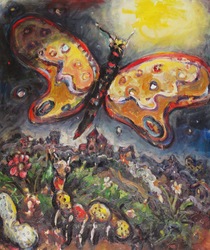 "This series is one of Connelly's most compelling and personal body of work to date."
Litchfield, CT (PRWEB) October 8, 2010
Chuck Connelly was the focus of a recent 2008 Emmy award winning HBO documentary 'The Art of Failure' and was also the inspiration for the Martin Scorcese New York Stories film in the late 1980's. Connelly's career has been marked by many twists and turns but has not veered from his uncompromised focus on his painting. Connelly, whose works are included in many public collections including the Metropolitan Museum of Art and the Brooklyn Museum, is considered by many to be one of the most significant living American painters today and has continually shunned the trends and currents of the NY art scene. Much like in the tradition of Van Gogh, Picasso and many other masters in their time, Connelly chooses to paint what is meaningful to him, life in the 21st Century. Connelly's mantra has been, "I am not an artist I am a painter".
A particularly poignant work included in this exhibition is entitled 'Making Amends'.The painting depicts Connelly in a vast open landscape with a line of people going on to infinity. All obviously waiting their turn for Connelly's amend making. Both compelling and humorous this is classic Connelly imagery and execution. This work is symbolic of the entire installation that is autobiographical as well as universal. Also included in the gallery's north space are other works Connelly has completed recently and a catalogue is available for this exhibition.
For more information contact the gallery at 860-567-5015 or visit online at http://www.newartsgallery.com Gallery hours are Friday - Sunday 11-5 and is located at 513 Maple Street in Litchfield, CT.
This exhibition will continue until November 28.Preview of the catalogue can be viewed at Issuu.
# # #