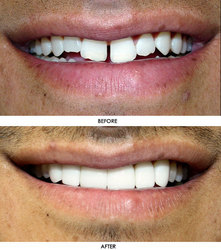 The whole thing was done without any shots, no pain involved, no bleeding, no stitches, no surgery.
San Antonio, TX (PRWEB) October 11, 2010
For soccer player Michael Abalos, it was a no-win situation. He needed to have his misaligned teeth and protruding lower jaw corrected, but the only solution offered by dental experts would have sidelined him from the game that had been his passion since he was four.
The standard treatment for his problem involves years of braces, followed by surgery to cut the jaws apart for realignment. It's a tough procedure for anyone, but for an athlete, it's a game-stopper.
And Abalos – who's been playing since before grade school, through high school and college, and on the semi-pro Laredo (TX) Heat – wasn't ready to walk off the field.
Then he met San Antonio cosmetic dentist Dr. John Moore, DDS, who has developed a pioneering technique for correcting major alignment problems without traditional braces or surgery, and at a fraction of the time of traditional treatments.
As he went from doctor to doctor, getting the same answer, he said, "My Mom did a lot of research and got information about Invisalign (clear braces). I made an appointment for a checkup with Dr. Moore, to see if Invisalign might help me."
Moore, a San Antonio Invisalign specialist who was honored at an international summit last year for his breakthrough treatment of a San Antonio boxer, immediately saw that his treatment – a unique combination of clear braces and veneers - was an answer for Abalos.
"The soccer player came in with exactly the same demands as the boxer," Moore said. "He said, 'I'm not going through surgery. I've been told over and over that the only way is to have years and years of braces, and then do surgery'."
"I looked at this case, and I said, oh my god, this is exactly like the other fellow. Here's an athlete that doesn't want to compromise his career by committing himself to something like the traditional invasive procedure."
Abalos, a 23-year-old student at San Antonio's Incarnate Word University, agreed to be the second athlete to undergo Moore's treatment.
"So I stick him in the veneers, get him into the Invisalign and move the lower teeth in, and boom! The whole thing is over in less than a year," Moore said. Along with the boxer, "both guys ended up extremely happy, they avoided the surgery, saved them a tremendous amount of invasive work."
"The whole thing was done without any shots, no pain involved, no bleeding, no stitches, no surgery . . . I actually didn't even have to trim the teeth for the veneers," he said. "A completely non-invasive, non-painful process . . . lightly touch the teeth, take some molds, build the veneers, get them into Invisalign."
Abalos is thankful that Moore's breakthrough allowed him to have the looks and healthy jaw alignment he wanted. "I feel really good about my smile, and the way I got it, with no interruption in my soccer playing. Nothing ever kept me out of the game."
Moore is now consulting with other prospective patients on his new technique, and is available for new patients.
Contact Information:
Dr. John Moore, DDS
Cosmetic Dental Associates
5837 Babcock Rd. San Antonio, TX 78240
Phone 210-337-6453
http://33smile.com
About Dr. Moore:
Dr. John Moore, DDS, has been practicing dentistry in San Antonio for more than 25 years, and his credits include serving as an assistant professor of dentistry at the University of Texas Health Science Center in San Antonio. He is a prolific lecturer and published writer, and has won numerous awards, including being voted into America's Top Dentists in Cosmetic Dentistry and honored as San Antonio's Top Dentist in Cosmetic Dentistry.
# # #