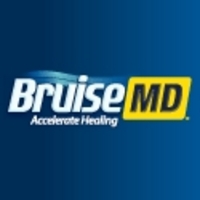 BruiseMD contains proven, safe and effective ingredients
Glendale, CA (Vocus) October 12, 2010
BruiseMD has introduced four new commercial sizes of the BruiseMD Cooling Gel to their lineup of bruise remedies. The BruiseMD Cooling Gel will now be available in four new larger sizes: 4 oz, 16 oz, 32 oz, and 1 gal. Currently, BruiseMD is offered in both oral and topical versions. The oral products are the BruiseMD Enzymatic Tablets and Chewable Tablets. Topicals include the BruiseMD Cooling Gel, Soothing Cream and Analgesic Balm.
BruiseMD contains proven, safe and effective ingredients known to alleviate pain, reduce inflammation, and decrease the skin discoloration associated with soft tissue injuries (bruises, contusions and hematomas). This is the first comprehensive line of bruise remedies, ensuring rapid relief and effecting the healing of soft tissue injuries. "Get Back in the Game," with BruiseMD!
The flagship BruiseMD products, Pineapple and Papaya-based Enzymatic Tablets and Arnica-based topicals, have been used to heal bruises from the outside in and vice versa. BruiseMD launched in the summer of 2008. Due to consumer demand, the larger commercial sizes have been added to the product line, to serve athletic organizations (high school, college and professional sports teams) and medical facilities (clinics, hospitals, assisted-living facilities and physical rehabilitation centers).
About IntraVera Worldwide
Headquartered in Glendale, CA, IntraVera Worldwide, Inc., is a consumer health and wellness products company. Our mission is to bring to market solutions that help improve and enrich the lives and vitality of our customers. IntraVera Worldwide, makers of BruiseMD, has developed a comprehensive line of first-aid products created to treat chronic bruising and injuries or surgical procedures that result in bruising. BruiseMD is available in a powerful enzymatic tablet formulation and in topical forms that include a Cooling Gel, Soothing Cream and Analgesic Balm. For more information, please visit us at http://www.bruisemd.com and http://www.intraveraww.com.
###
.