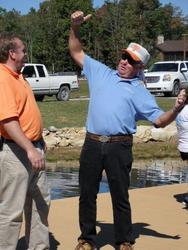 Spencer, TN (Vocus) October 8, 2010
Opportunities present themselves in unexpected ways and the subject of hosting a fishing tournament at Long Branch Lakes in early October was just such a serendipitous event. Charlie Medici, founder of a highly successful fundraising program for the Leukemia/Lymphoma Society in Westchester, New York called DaHunt for the Cure dahuntforthecure.com, came for a personal visit to Long Branch Lakes with his wife Diane. An avid fisherman himself, he saw the possibilities.
Developers Rick Klewein, Edmond Cash and Andy Cash took little time to think this one over. The project was launched. What resulted, was a major effort to elicit the help of property owners, area residents, vendors and personal friends to participate by entering fishing teams to compete; for those not interested in fishing, to be able to enjoy a weekend of hay rides, hiking, kid's activities, and special meals offered at the new Long Branch Lakes General Store.
To sweeten the pot, Mr. Bill Dance, a legend in the sport of bass fishing was recruited because of his special relationship with Long Branch Lakes, and their establishment of a Bill Dance Signature Lakes http://www.longbranchlakes.com/billdance.htm program, to be the tournament's Master of Ceremonies. Bill's casual friendly manner, his spirited style of cheering on the teams, tender moments with the tournament's small fry, not to mention plenty of picture taking and autograph signing, completed the picture perfect day.
Now why did the senior member of the group, Mr. Edmond Cash, so enthusiastically jump into this major fundraising project? While Charlie Medici was relaying the story of his personal involvement with LLS , and his nephew's diagnosis with Leukemia, Edmond's thoughts turned to his own neighbors and friends the Muschamp family. Sixteen-year-old Jordan Muschamp, a student at the Darlington School, (where it just so happened Edmond's own son and now Development Partner, Andy Cash had attended and his own grandchildren currently attend), was diagnosed with Leukemia this past spring and Edmond knew that he too, was undergoing treatment to achieve his own cure. Pure coincidence, or kismet? The connection seemed to call for a response. And given the love of the outdoors that was shared by all involved, the idea of sponsoring a fishing tournament and hosting in at Long Branch Lakes to honor Jordan and to support the search for a cure for Leukemia and Lymphoma was set into motion.
This was a hugely successful endeavor. Over $20,000 was raised in just six seeks. The Long Branch Lakes family was extended to include families from all over the county who heard about the event and in an enthusiastic show of support, came to support the Fish to Reel in the Cure, hook, line and sinker.
Long Branch Lakes is a private gated community of almost 5,000 Acres located in Middle Tennessee on the Cumberland Plateau. Noted for its Rustic Mountain Architecture, 2 Bill Dance Signature Lakes , and 1,000 Acre Equestrian Village with its own full service and fully staffed Equestrian Center, Long Branch Lakes offers a relaxed and inviting outdoor lifestyle for its residents. For further information, please contact Susan Caruso by calling 931-316-1487 or email at susan(at)longbranchlakes(dot)com and visit longbranchlakes.com.
# # #