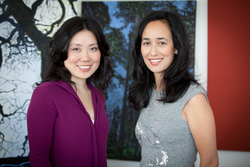 With the strong consumer and designer response that we've experienced in the past two years, we've realized that we have incredible growth opportunities that demand expansion and scale-up of the engineering team. Niniane's remarkable combination of technical acumen, drive, leadership ability, and recruiting experience makes her a great fit to lead engineering at Minted
San Francisco, CA (PRWEB) October 11, 2010
Minted.com (http://www.minted.com), the leading design community and stationery retailer, today named Niniane Wang its Chief Technology Officer. Wang, who previously led engineering teams at Google and Microsoft, will report to CEO & Founder Mariam Naficy.
Wang, who brings over 11 years of engineering experience to Minted, will be responsible for leading the technology division at Minted to deliver world-class engineering solutions. She was a prominent member of Google for five years, where she was a founding member of Desktop Search, led Gmail monetization, and founded Google Lively. She also served on Google's hiring committee for her entire tenure at the company, and was a notable figure in recruiting, appearing on behalf of Google recruiting in the New York Times, CNN, Fortune, and Wired.
Wang says, "I'm thrilled to join Minted, and look forward to bridging excellent engineering with Minted's sophisticated graphic design community. Minted is an incredibly exciting startup, with solid monetization and the potential to change the world of graphic design."
A co-inventor of 29 patents, Wang has delivered products that ship to millions of consumers, both at Google and previously at Microsoft. At Google, she received a Founder's Award, the highest award within the company. In her five years at Microsoft, she served as engineering lead on the popular franchise Flight Simulator, producing innovations that led to two talks at leading computer graphics conference SIGGRAPH, as well as contributing engineering to other game titles. In her youth, Wang skipped three grades, learned the Lisp programming language at 10 and graduated with a degree in computer science from Caltech at 18.
"With the strong consumer and designer response that we've experienced in the past two years, we've realized that we have incredible growth opportunities that demand expansion and scale-up of the engineering team. Niniane's remarkable combination of technical acumen, drive, leadership ability, and recruiting experience makes her a great fit to lead engineering at Minted," says Naficy.
Wang was introduced to Naficy by Jeremy Stoppelman, Co-Founder & CEO of Yelp. Stoppelman, an investor in Minted, says, "Minted has strong consumer traction and the opportunity to become the most successful design community on the web. Niniane's chemistry with Mariam and passion for the company's mission made her an obvious fit, and I am thrilled she has joined the team."
Today's announcement coincides with the launch of Minted's new homepage, designed to better reflect the company's heritage in crowdsourcing. The company has been crowdsourcing designs since its founding in 2008 and printing those designs in the form of holiday cards, wedding invitations, and other stationery. The company derives virtually 100% of its revenue from crowdsourced designs.
About Minted's design challenges:
Minted's mission is to allow consumers to discover design genius from all over the world, providing an opportunity for designers to build their careers on merit alone. Minted holds monthly design challenges to source designs from a large global community of designers. The Minted community selects the best designs in a highly competitive and meritocratic process, yielding a top selection of the freshest, finest cards in the world. To that end, Minted's 2010 Holiday Card competition was the company's biggest challenge yet: almost half a million votes were cast for 1,370 designs, and the top contenders were chosen by Minted's community for sale.
About Minted:
Minted is a venture-backed design community and stationery retailer, crowd-sourcing graphic designs and content from a global design community and selling those as premium printed paper products initially focused on the $10 billion stationery, invitations, and cards market.
Minted has radically transformed what consumers now expect in holiday cards, wedding invitations, save the dates, birth announcements, and other personal stationery. The company's paper and printing is of the highest quality and it leads the market with the newest formats and most coveted details. Minted's fresh, unique designs have been featured on The Today Show and The Early Show, and in Real Simple, Town & Country, InStyle Weddings, Food & Wine and other major national magazines. Minted is funded by IDG Ventures San Francisco.
# # #