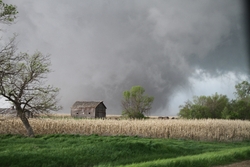 Several of the tours will be hosted by celebrity TV meteorologists
Minneapolis, MN (PRWEB) October 11, 2010
F5 Tours, based out of Minneapolis, Minnesota, goes public today to announce that it will host week long tours in search of severe storms during the months of May and June, starting in the 2011 storm season. The company is owned and operated by a network of highly experienced weather veterans who have captured well over 100 tornadoes on film and video over their careers as storm chasers. The majority owner is Andrew Revering, a weather professional who owns Convective Development, a weather software and data company.
Thanks in part to the popularity of cable TV shows about storm chasers, weather enthusiasts from around the world are realizing that they don't have to wait for storms to come to them. Storm tour companies like F5 Tours help tourists realize their desire to witness the awesome power of severe storms, large hail and tornadoes for themselves. It is a passion shared by a growing number of people.
The 2010 storm season left the state of Minnesota on top of the list for the most number of tornadoes anywhere in the nation, destroying the totals for all other states, including the traditionally strong showings of Texas, Kansas and Oklahoma. Whether this trend continues remains to be seen, but the upper Midwest often sees a large number of severe storms in May and June.
There are approximately two dozen storm tour companies nationwide, but F5 Tours has a unique approach to its business model. Several of the tours will be hosted by celebrity TV meteorologists or weather professionals. One such local professional that has committed to hosting tours is Rob Koch, formerly of KSTP channel 5 and now with WeatherNation, a national weather provider owned in part by Paul Douglas.
Education is a focal point with F5 Tours. One of their primary missions is to educate clients on storm forecasting techniques and safe chasing strategies. In addition to receiving a handbook designed by the operators, clients are briefed on each day's severe weather prospects.
The first tour will begin on May 1, 2011. Tours during May are based out of Oklahoma City, while the June tours are based out of Minneapolis, as the active weather patterns shift northward during the spring.
For further information and tour schedules, visit http://www.f5tours.com.
# # #