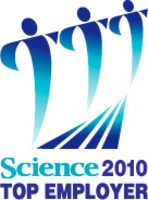 When you have talented people, challenging work and a collaborative environment, you can accomplish great things. Syngenta people are doing this every day.
Research Triangle Park, NC (PRWEB) October 8, 2010
For the second year in a row, Syngenta was ranked among the top biotechnology and pharmaceutical employers according to a Science magazine poll, this time moving up the ranks from number 20 to number seven in a field of 575 companies. The rankings were based on survey results published today in a special feature of this week's edition of Science magazine.
Science magazine, along with the American Association for the Advancement of Science (AAAS), commissioned a web-based survey aimed at determining the companies with the best reputations as employers. There were 2,444 survey respondents who were asked to write in the names of companies they considered the best, average and worst employers in the industry.
"We are honored that our employees and the biotechnology industry have once again recognized us as a top employer, and we are especially proud to have moved up so considerably in the rankings," said Michiel van Lookeren Campagne, head of Syngenta Biotechnology R&D. "We need continual innovation in agriculture to meet the needs of our growing global population. When you have talented people, challenging work and a collaborative environment, you can accomplish great things. Syngenta people are doing this every day."
Syngenta and other companies were rated based on 23 different attributes including corporate image, financial strength, leadership and direction, work culture and environment, location, and academic and intellectual challenge.
Syngenta is an industry leader in R&D and invests about $1 billion per year in research and development, and employs more than 5,000 R&D scientists worldwide to develop new solutions for farmers.
Syngenta has two key biotech facilities – the North American biotech headquarters, Syngenta Biotechnology, Inc(SBI), located in Research Triangle Park, N.C., and Syngenta Biotech China (SBC) in Beijing, China. Last year, SBI celebrated its 25th anniversary. In May, the company expanded its facilities to include a 100,000 square foot office space in the Keystone Office Park. Moving into this supplemental space concluded the first phase of a longer-term expansion plan that will allow SBI to continue to grow. SBC opened in October of 2008 and is the first foreign-funded agricultural biotech research institution in China.
Syngenta is one of the world's leading companies with more than 25,000 employees in over 90 countries dedicated to our purpose: Bringing plant potential to life. Through world-class science, global reach and commitment to our customers, we help to increase crop productivity, protect the environment and improve health and quality of life. For more information about us please go to http://www.syngenta.com.
Media contacts:
Casey Novak
Gibbs and Soell Public Relations
cnovak(at)gibbs-soell(dot)com, (919) 870-5718
Steven Goldsmith
Syngenta Corporation
steven(dot)goldsmith(at)syngenta(dot)com, (919) 226-7351
Cautionary Statement Regarding Forward-Looking Statements
This document contains forward-looking statements, which can be identified by terminology such as 'expect', 'would', 'will', 'potential', 'plans', 'prospects', 'estimated', 'aiming', 'on track' and similar expressions. Such statements may be subject to risks and uncertainties that could cause the actual results to differ materially from these statements. We refer you to Syngenta's publicly available filings with the U.S. Securities and Exchange Commission for information about these and other risks and uncertainties. Syngenta assumes no obligation to update forward-looking statements to reflect actual results, changed assumptions or other factors. This document does not constitute, or form part of, any offer or invitation to sell or issue, or any solicitation of any offer, to purchase or subscribe for any ordinary shares in Syngenta AG, or Syngenta ADSs, nor shall it form the basis of, or be relied on in connection with, any contract therefore.
###