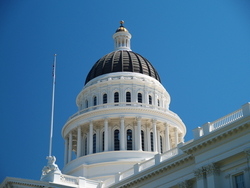 Sacramento, CA (Vocus) October 8, 2010
Demas & Rosenthal, a firm of Sacramento personal injury lawyers whose Web site URL location is http://www.injury-attorneys.com, now sponsors MADD, or Mothers Against Drunk Driving. The purpose of the sponsorship is to help promote MADD's efforts to educate the public and discourage driving while under the influence of alcohol and drugs. Some inroads were made in 2009 when statistics show the number of drunk driving fatalities in the United States dropped by seven percent.
In addition to bringing continual awareness to the issue of drunk driving, MADD also serves the important function of acting as a support system for families of those who have been injured or killed by drunk drivers on American roads. Demas & Rosenthal fully supports MADD in these efforts.
Driving under the influence of drugs or alcohol is a misdemeanor in California unless it causes bodily injury, in which case it can be charged as a felony. Even though persons convicted under the current DUI laws face substantial fines and penalties, and significant resources are dedicated to enforcement, there are far too many incidents of drunk driving causing injury or death across the country.
In addition to criminal penalties, drunk drivers can be held civilly liable in California. These Sacramento personal injury lawyers have teamed with MADD so that drunk drivers can be held accountable in this manner as well.
About Demas & Rosenthal
Demas & Rosenthal is a law firm comprised of Sacramento personal injury attorneys who have been representing injury victims since 1993. The firm's specialty includes traffic accidents, California DUI accidents, premises liability, defective product cases and general liability injury matters.
# # #