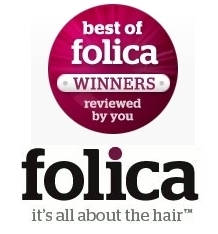 New York, NY (PRWEB) October 11, 2010
Folica.com (http://www.folica.com), a leading online beauty retailer, announces its 2010 Best of Folica winners. The winning hair products and tools were chosen from more than 5000 items, based on the ratings of over 50,000 customer reviews along with our expert panel of merchandisers. This is the third consecutive year for the Best of Folica awards.
Categories include top performers in:

Flat Irons
Hair Dryers
Curling Tools
Hair Care
Hair Styling
Brushes
Hair Loss
Hair Removal
The Best of Folica award winning products can be found at Folica.com
"Every year we introduce hundreds of new products and receive thousands of candid reviews from our very hair involved customers and we use those ratings and reviews to help select the Best of Folica winners.
We listen to our customers and follow industry trends closely in order to choose the categories and products eligible for Best of Folica consideration. Our customers rely on the rich and useful feedback from other customers and we believe that to be the foundation of our success," said David Giacomini, VP of Merchandising & Marketing
The Best of Folica is an exciting spotlight on the most successful products in hair care from one of the web's leading retailers. With a million hair obsessed visitors per month that range from consumers to stylists and industry professionals, Folica.com has become a trusted source for all things hair related. The winners of the 2010 Best of Folica reflect both engaging customer experiences as well as an insightful snapshot of 2010 trends.
About Folica, Inc.
Founded in 1998 and based in New York City and New Jersey, Folica.com is a leading online destination for hair products, tools and expert advice on hair care and styling. Folica.com carries more than 5,000 products from premium brands and features more than 50,000 customer reviews on its site to help customers achieve more great hair days. For more information, visit http://www.folica.com.
###