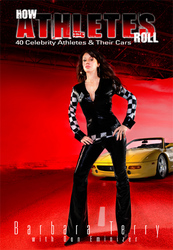 Tune in each week and learn with me just how these beloved athletes roll!
Charlotte, NC (Vocus) October 8, 2010
Barbara Terry, automotive expert and author of the book "How Athletes Roll" (Comfort Publishing, 2010), is joining Sports Byline with a weekly radio show. The "How Athletes Roll" radio show will feature her speaking with famous athletes about their love of cars and sports. The national show is scheduled to start November 17, 2010 and will air weekly on Wednesday's from 9 to 10 p.m. EST (6 to 7 p.m. PST). Shows will re-air each Saturday from 5 to 6 p.m. EST.
"This is such an exciting opportunity for me and listeners alike," explains Barbara Terry (http://www.howathletesroll.com). "I get a chance to talk about what I love and people get a chance to learn more about celebrity athletes and what they like to drive. It will be fun, entertaining and always interesting!"
The success of her book "How Athletes Roll" has demonstrated how interested the public is in learning more about what athletes drive and the stories behind their vehicles. Released in August 2010, within the first month alone there were over five million households exposed to the book.
The radio show will pick up where the book left off, in showcasing such athletes as those in football, golf, Nascar, hockey, boxing, wrestling, and more. Listeners will not only learn about what the athletes drive, but the details on what their first or most unique car has also been.
"People love athletes and they love cars, it is a match made in heaven to pair the two together and get them discussing it on a radio show," adds Terry. "Tune in each week and learn with me just how these beloved athletes roll!"
The Sports Byline show will reach 177 radio stations domestically and 500 stations globally, as well as online. Barbara Terry will also be making periodic media appearances to promote the show and meet with fans.
About Barbara Terry
Barbara Terry is a highly sought-after automotive expert, speaking to media outlets across the country on a wide variety of auto-related issues and topics. She is also an off-road racecar driver. She has been featured in over 100 publications and has made over 400 television and radio appearances since 2006. To learn more about Barbara Terry, visit the website http://www.barbaraterry.com. To learn more about "How Athletes Roll," visit http://www.howathletesroll.com.
###