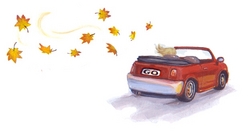 Fall trips on a single tankful of gas all across the nation.
Charlottesville, VA (PRWEB) October 12, 2010
A Day's Outing, a free, online travel search tool for helping users find nearby day trips, vacation side trips and weekend getaways, offers local events for fall trips on a single tankful of gas all across the nation. It's easy for families, couples and friends to plan a perfect trip without the expense of an overnight hotel stay. With fall in full swing and hundreds of thousands of outings to explore all across the country, A Day's Outing helps people plan the perfect day trip that can be right around the corner or just a few hours away. Launched last year in the mid-Atlantic, A Day's Outing expanded its service nationwide over the summer. The company also recently introduced an iPhone App for users to conveniently find local events and nearby things-to-do when they are out and about.
While a long vacation may not be possible at this time of year, a great day or weekend trip on only one tankful of gas certainly can be. Many times many activities, historical points of interest, museums, gardens, and other hidden treasures are located right in one's own backyard, but are left undiscovered. With A Day's Outing, users are matched to their perfect outing by their specific starting location, personal interests, preferred driving distance and date of travel. A Day's Outing helps people plan a short-distance trip by revealing nearby events, destinations and great day trip activities.
How Far Can One Go on One Tank of Gas?
Of course, how far one can go on a single thankful of gas varies on the size of a car's tank and its gas mileage, but with so many day trips presented by A Day's Outing, it's easy to find a great fall day trip. With A Day's Outing, it's simple to select the outing that you are interested in, view the important details and then print those details of the outing with a map to carry along for the trip.
Day Trips That Appeal to Everyone
A Day's Outing includes day trips close to home that everyone can enjoy. Examples of outings, along with the site's categories that can be searched, include:
Antiques & Auctions: 6th Annual Blacksmith Auction, Brasstown, NC
Fairs, Events & Festivals: St. Mary's County Oyster Festival, Leonardtown, MD
Family & Children: Museum of Science and Industry, Chicago, IL
Farms, Food & Wine: Dallas Farmers Market, Dallas, TX
History & Heritage: Historic Lairdland Farm House, Cornersville, TN
Museums & Art: San Diego Automotive Museum, San Diego, CA
Nature & Outdoors: Werner Wildlife Museum, Casper, WY
Parks & Gardens: Leschi Park, Seattle WA
Theater & Stage: Mind Over Matter, and other Psychic Manifestations, Washington, D.C.
Unique Sports & Hobbies: Ohio Bird Sanctuary, Mansfield, OH
With any search on A Day's Outing, the focus is on simplicity and speed. There is just one page where users choose their preferences to seek an outing, one page with personalized search results with events, day trips and destinations to choose from, and the last page has details about the outing they are interested in. The simplicity eliminates getting overwhelmed within the site and the speed eliminates the hassles of having to spend an inordinate amount of time researching individual specific activities whenever users want to consider or plan a day trip.
"With A Day's Outing, anyone can easily and quickly plan a nearby day trip that's just a tankful of gas away. By simply entering where they are starting from and what they like to do, we can provide a list of events and destinations tailored around their preference for users to choose from," commented Elizabeth Muse, co-founder and CEO of A Day's Outing. "We hope that A Day's Outing is a valuable, timesaving service that helps users plan fun outings with their friends or family."
About A Day's Outing
Based in Charlottesville, VA, A Day's Outing is a location-based service for people to quickly discover the best local events and things-to-do anywhere in the country. A Day's Outing website and iPhone App helps users find activities and destinations for day trips, weekend getaways or vacation side trips. Users are matched to outings based on their specific starting location, personal interests, preferred driving distance and date of travel. For more information about A Day's Outing, please visit http://www.adaysouting.com.
Editor's Note: Artwork available upon request.
###