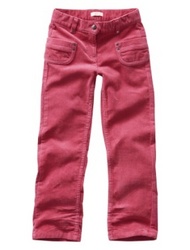 (PRWeb UK) October 12, 2010
Obesity in children has become an increasingly prevalent issue, with reports suggesting that around a third of children could now be considered as obese. The expanding waistbands of the UK's children has meant that girls and boys clothing brands, with Vertbaudet firmly at the helm, have had to step up a gear to ensure that their clothing ranges address this issue.
Vertbaudet fully endorses active, healthy lifestyles in children, but also recognises the current need to provide an extended range of boys and girls clothing to cater for all shapes and sizes. That's why the Vertbaudet designers have produced their all-inclusive 'Perfect Fit' collection of trousers to ensure that every child - whatever their build - can benefit from comfortable, durable and well-fitting clothing.
Boys and Girls Clothing For Any Size
Vertbaudet's Perfect Fit range provides a selection of practical and stylish trousers for girls and boys aged between 2 and 14. The trousers come in 3 hip sizes - slim fit, standard fit and full fit, all with hidden elasticated waists and inner buttons, to achieve a flawless fit around the waist and hips. The trouser press-stud and zip fastenings have been designed so that even little hands can get to grips with them, encouraging independent dressing from a young age.
The Perfect Fit girls clothing range consists of a choice of stonewashed or black stretch denim and pink and purple corduroy fabrics. Each style is available in straight or bootcut, with each item incorporating a number of practical and chic fashion details, from reverse denim patch pockets, and crinkle pleat hems to riveted half belts.
Vertbaudet have endeavoured to offer a wide selection of smart styles in their Perfect Fit boys clothing range too. Again, the boys Perfect Fit trousers come in slim, standard and full fit, and include of number of design features - such as riveted side pockets, leg bellow pockets and zip pockets - that have been designed to withstand the perpetually playful rough and tumble world of young boys. The Perfect Fit boy's trousers are available in stonewashed or untreated denim, as well as black or beige long-lasting corduroy. Both collections also feature a handy size guide to help parents assess which trouser size is the 'perfect fit' for their child.
The Perfect Fit range can be found in Vertbaudet's Autumn/Winter 2010/11 collection.
About Vertbaudet
Vertbaudet is an award winning children's clothing brand, producing high-quality fun and stylish clothing for infants, children and expectant mothers.
Vertbaudet forms part of the Redcats Group, together with industry leaders such as La Redoute and Daxon. Redcats Group is a member of PPR Group, alongside a number of prestigious and luxury brands such as Yves Saint Laurent and Gucci.
Founded in France over 40 years ago, Vertbaudet launched in the UK in 1997 and is considered today as a leading UK infant and children's wear specialist. This leading children's clothing brand runs a large and successful home shopping network, with established high street stores throughout Europe.
###