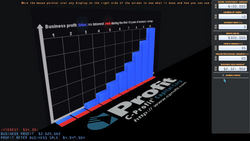 Mckinney, TX (Vocus) October 12, 2010
Compound Profit is dedicated to helping businesses of any size grow and create new jobs, improving their cash flow through working capital factoring and teaching the business owners how to minimize their operating expenses and risk, while increasing their profit – for free!
The startup finance calculator is a 100% free Windows application that allows anyone to see an interactive, 3D visual representation of the business profit / savings ratio for the money that can be either invested in a business or deposited in a savings account. The program computes the interest that can be obtained by placing your money into a savings account, as well as the money that can be gained by investing the same amount in a business and the total profit that can be obtained by selling the business after 10 years of activity.
According to James Penny, founder, president and CEO at Compound Profit, "This is only the first step in our much larger 'we care about small business owners' initiative. The Startup Finance Calculator we've designed is the perfect tool for small business owners and aspiring business owners, who want to see how much money they can earn if they decide to start a business or expand their existing business either using their own money or by getting funds from an alternative financing institution such as Compound Profit. And I promise that we won't stop here; more and more updates and other free resources will be added to the package on a regular basis".
About Compound Profit
Compound Profit offers working capital factoring, medical factoring, equipment leasing and a highly acclaimed, inexpensive business credit builder program that brings in results after only a few months of use. Launched in Texas, Compound Profit has expanded throughout the entire U.S.A. and operates under a successful franchise model. For more information, visit Compound Profit.
# # #