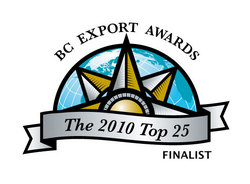 The BC Export Awards recognize and celebrate the important contribution exporters make to the economy of B.C.
Vancouver, BC (Vocus) October 9, 2010
More than 500 of BC's top business leaders and government officials will be in attendance at this year's gala luncheon to help celebrate the announcement of the winners from the eight business categories and name one company as Exporter of the Year. "The BC Export Awards recognize and celebrate the important contribution exporters make to the economy of B.C.," said Craig Williams, Vice President BC Division of CME.
Unifiller provides solutions for precise portion control in the baking and food industry with an extensive range of single piston depositors, transfer pumps and multiple head units. As well, they specialize in producing both fully and semi-automated cake production systems. Unifiller was also recognized as the 2008 Business of the Year by Delta Chamber of Commerce at the Hats off to Excellence Gala Awards and was voted one the top 50 small businesses in Vancouver in 2008. With a plant size of over 35,000 square feet, Unifiller designs, engineers, manufactures and exports bakery and food equipment to a wide range of companies across North America and to over 73 countries world wide – it is no surprise Unifiller is among BC's elite exporters for two years in a row. They run fully-fledged sales and operations planning process to forecast trends and anticipate sales. "We assemble to forecast and then ship to order", says Mark Soares the CEO of Unifiller Systems. "Turnaround on our standard line of equipment is now down to somewhere between five to seven days" Unifiller was featured in the 2010 September issue of Business Review Canada and Manufacturing Digital.
The awards are open to all BC companies that have been exporting a product or service for two or more years. Since its inception, the BC Export Awards has recognized the achievements of more than 350 BC exporters.
About CME
Canadian Manufacturers & Exporters (CME) is Canada's largest industry and trade association. We represent businesses in all sectors of manufacturing and exporting activity across Canada. Our mandate is to promote the competitiveness of Canadian manufacturers and the success of Canada's goods and services exporters in markets around the world. Find out more at http://www.unifiller.com.
###