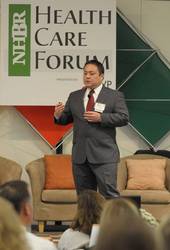 The Innovator's Prescription: A Disruptive Solution for Healthcare
Manchester, NH (Vocus) October 8, 2010
More than 300 business leaders from around the region gathered in Manchester earlier this week for the second annual Health Care Forum titled What's Working, What's Not, and What's Next?" presented by MVP Health Care. The Forum, which opened with a compelling video entitled Remarks, Reflection & What's Next?, discussed how companies can work collaboratively to transform employer based health care through innovative solutions, financial incentives, employee engagement and payment reform initiatives.
Jason Hwang, M.D., M.B.A, co-author of "The Innovator's Prescription: A Disruptive Solution for Healthcare" and co-founder and Executive Director of Healthcare at Innosight Institute delivered the keynote speech where he discussed the need to take a disruptive approach to uproot status quo of the currently siloed health care system, and shift to a wellness ecosystem – one that fosters integrated care. He urged employers, human resource professionals, benefit specialists and health care providers to come together to revolutionize employer based health care through incentive programs, employee engagement and by establishing a strong workplace culture.
Following the keynote, the panelists including Robert McLellan, M.D. of Dartmouth-Hitchcock Medical Center, Deane Ilukowicz of Hypertherm, Dawn Barker from RiverWoods at Exeter, Gray Chynoweth of DYN, Inc. and Heather Staples representing The University System of New Hampshire shared their own experience on advancing employer-based health care through methods of personal accountability and wellness, and their financial significance. They also discussed the need to get everyone from management teams to employees involved, engaged and excited about employer based wellness programs to shift from a sickness system to a wellness management system – one that increases presenteeism and productivity in the workplace.
The program was moderated by Peter Hayes, Principal of Healthcare Solutions and member of the National Business Group on Health. Quoting Albert Einstein, Hayes shared, "We can't solve problems by using the same kind of thinking we used when we created them" to emphasize the need to think beyond our current system to further advance the conversation about health care.
He added, "What's currently working is innovation – leveraging technology, aligning reimbursements with outcomes, quality and price transparency and holding both patients and providers accountable for outcomes; what's not is the status quo and thinking someone else is going to deliver change; and what's next is that we get our communities involved to evolve and transform our health care system."
"As a not-for-profit health plan, and a nationally recognized leader in employer based health care and wellness innovation, MVP is focused on the future of health care," said Chris Henchey, Chief Operations Officer at MVP Health Care. "We are keenly aware that the individual consumer is at the center of their own care and their overall well being, but we also understand the importance of fostering a wellness community between patient, physician and employers – it creates an opportunity for us to influence a culture of health."
About MVP Health Care
Founded in 1983, MVP Health Care is a regional, not-for-profit health insurer based in Schenectady, N.Y. Through its operating subsidiaries, it provides fully insured and self-funded employer health benefits plans, dental insurance, and ancillary products, such as flexible-spending accounts, to 750,000 subscribers in New York State, Vermont and New Hampshire. Visit the Advancing Health Care 2.0 blog to read more about MVP Health Care's thoughts improving health care quality and controlling costs.
###