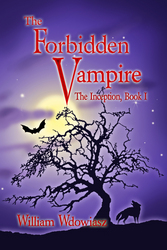 Dunkirk, NY (Vocus) October 9, 2010
The Forbidden Vampire: The Inception, Book I, a new book by William Wdowiasz, has been released by Dorrance Publishing.
The Forbidden Vampire: The Inception, Book I is the story of Forbidden, the world's first vampire. Forbidden is spawned from a seed released two thousand years ago by his father, Satan. Helped by his mother, who instills goodness in his soul, and a Holy Spirit operating in Beyond Forest, Forbidden defies his father's intended mission of destroying the world. He tries to keep his power within bounds and guards against infecting and turning humans into vampires.
To succeed, he must deal with his father's minions and the tragedy brought about by their contact with Richie Stockmore, a human who unwittingly finds himself thrust in the battle of good and evil to rule the world.
Mother and son spend their days—and nights—like the shadows roaming the trees in Beyond Forest, grimly and desperately trying to outsmart Satan one more time. Richie Stockmore, a landscaper and gardener out on a trip to Beyond Forest one day, drills himself into the guarded world of Gloria and Forbidden after a chance meeting. Now drawn into the lives of mother and son and their constant vigil against evil, Richie finds himself at the center of a possible final catastrophe for the whole of humanity. A mere slip of the mouth could now shatter the world of Gloria, Forbidden, and everyone else with them.
Will Richie be the man to end their world and the world around them?
Author William Wdowiasz is a packing line operator for Nestle Purina. He is single and loves music, watching movies, and reading. He enjoys sports and walking alongside Lake Erie, but writing is his main passion.
The Forbidden Vampire: The Inception, Book I is a 368-page paperback with a retail price of $20.00. The ISBN is 978-1-4349-0507-9. It was published by Dorrance Publishing Co., Inc. of Pittsburgh, Pennsylvania. For more information or to request a review copy, please visit our virtual pressroom at http://www.dorrancepressroom.com or our online bookstore at http://www.dorrancebookstore.com.
# # #