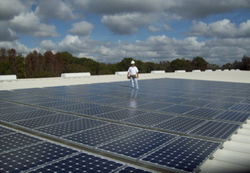 It's good for the environment and it will continue to grow. The key is to be careful that what you are installing is investment-worthy. You need the right engineering, materials and professional installation. But once you have everything in place and the project makes economic sense, the only question is, 'Why not?'
(PRWEB) October 12, 2010
In a bid to provide solar energy systems in New Jersey, two Florida-based renewable energy companies have partnered to form PowerReady Alternative Energy, LLC.
The PowerReady Alternative Energy strategy is to design and install regional solar energy systems using New Jersey's popular tax incentives for renewable energy.
PowerReady Alternative Energy is a partnership between two established green companies, VB Engineering (VBE), a leader in the design and installation of solar energy systems and PowerReady Power Systems, which designs and installs clean battery back-up systems and wind turbines. Both companies remain independently viable but say they are committed to establishing a presence in the northeast as PowerReady Alternative Energy.
Company principals include VBE president Mike Vergona, and PowerReady CEO Bill Dato, who is running PowerReady Alternative Energy's business operations in the northeast. Dato believes the merger between 36-year-old VBE and its younger partner stands apart from the competition due to their combined record for proficiency in engineering, design and installation.
"PowerReady Alternative Energy will work with local business and property owners to design their energy system and help them bring an investment-grade solar installation within economic reach," Dato said. "We are now a full-service alternative energy company, matching battery back-up and wind turbine technology with some of the best solar design engineering around."
A key employee on the technical side is VB's lead engineer, Dr. Roger Messenger, an authority on photovoltaic (solar) systems. A professor emeritus at Florida Atlantic University, Messenger authored the text, "Photovoltaic Systems Engineering" (1999) and has designed countless solar installations including the massive multi-acre site at the Orlando Convention Center.
"I've been doing solar installations for years," Dr. Messenger said. "We have seen the pace of growth reach a plateau, even in Florida. Here in New Jersey, however, there are incentives for investing in solar, probably the best in the country. It's the right time to be installing solar here."
On September 30, Messenger and Dato hosted a kick-off seminar on solar basics in Clifton, New Jersey where a group comprising energy trade professionals, realtors, contractors and salespeople learned about solar basics.
"What makes us credible is our range of service," Dato said. "We offer property owners comprehensive packages from design through installation. But we are just as eager to meet with other solar companies and provide them support on their projects."
Dato said that PowerReady Alternative Energy will help business and property owners in a variety of ways, from financing the building of a system to setting up a power purchase agreement in which PowerReady Alternative Energy retains ownership of the solar installation and sells power back to the property owner at a savings over their traditional power utility.
"The market for solar is very active," Dato said. "It's good for the environment and it will continue to grow. The key is to be careful that what you are installing is investment-worthy. You need the right engineering, materials and professional installation. But once you have everything in place and the project makes economic sense, the only question is, 'Why not?'"
Solar Sidebar:
At the Clifton, New Jersey seminar, solar energy expert Dr. Roger Messenger and fellow engineer Bert Lichen from PowerReady Alternative Energy covered photovoltaic (solar) components, a variety of algorithms for power and heating, a comprehensive overview of site assessments, government incentives for renewable energy, building code issues and the essentials of design and installation. The engineers' discussion suggested that a high professional standard was key to the success of any solar installation.
There were also some interesting facts to take away:

Solar systems are generally robust. They are built to last about 25 years but can last much longer.
Small amounts of shade, even the size of a business card, can affect the efficiency of a string of solar panels.
Solar panels can be power-washed.
In terms of a roof load, the "lift" from high wind is usually a bigger concern than the weight of the installation itself.
Solar installations can strengthen a roof: photographs taken post-hurricane in Florida showed that a roof could be torn apart all around a solar installation, while the roof immediately under the solar panels survived the storm intact.
New Jersey's solar incentives are considered the best in the nation.
North Carolina University's Database of State Incentives for Renewables and Efficiency provides a comprehensive view of state incentives, rules, regulations and a glossary.
###