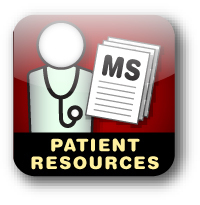 MS Patient Resources technology is designed with clinicians' time constraints in mind
Chicago (PRWEB) October 12, 2010
DIME introduces MS Patient Resources, an application for the iPhone and iPod Touch, enabling clinicians to bring credible, patient-focused information to the point-of-care in the office or clinic, where they treat and counsel patients with multiple sclerosis. MS Patient Resources provides dynamic, on-demand information, ranging from scientific research and diagnostic pathways to patient-support resources.
According to Patrick Richard, DIME's Vice President for Digital Strategy, "MS Patient Resources technology is designed with clinicians' time constraints in mind, sending them directly to information they can share with their patients to help them become knowledgeable, motivated, and adherent. It also empowers patients by giving them a reliable information source outside of doctor-patient visits."
MS Patient Resources guides clinicians and patients to frequently updated information about: MS research, including information about the science of MS written for a general audience.
Diagnosis of the various types of MS, including MRI, cerebrospinal fluid analysis, and other methods of diagnosing progressive and relapsing MS; demyelinating disease; benign MS; and chronic disease.
MS treatments, including steroids, interferons, and other well-established, injectable, disease-modifying therapies; new oral therapies and other types of MS treatments making their way from the laboratory to clinical trials; and complementary and alternative therapies that incorporate diet, yoga, and biofeedback.
MS symptom management, including established and alternative ways of managing difficulties related to spasticity, balance, gait, motor function, sexual function, vision, speech, and cognition.
MS and its effect on quality of life, including pregnancy and MS, and current information about employment and workplace issues regionally and nationally.
MS patient support activities, including links to the National Multiple Sclerosis Society, the MS Foundation, the MS Association of America, and other organizations that produce downloadable brochures and newsletters and sponsor support groups and other activities for patients and their families nationally, regionally, and locally.
Using the MS Patient Resources Visit feature, users can save their selections and keep them on hand to discuss with patients and share with their colleagues now or in the future.
The members of the MS Patient Resources Editorial Board are George J. Hutton, MD, Associate Professor of Neurology, Baylor College of Medicine, Houston, Texas; and Constance B. Easterling, RN, MSN, ARNP, MSCN, Clinical Coordinator, Multiple Sclerosis Care Center, Neurological Services of Orlando, Orlando, Florida.
MS Patient Resources is made possible by a grant from Bayer Healthcare Pharmaceuticals.
DIME is an independent healthcare continuing education provider with 17 years of experience. Based in Chicago, the company serves physicians, physician assistants, nurse practitioners, nurses, pharmacists and other healthcare professionals across the US through a variety of educational formats. DIME is accredited by the Accreditation Council for Continuing Medical Education (ACCME) to provide continuing medical education for physicians. It was the first medical education company to receive Accreditation with Commendation from the ACCME under its 2006 Updated Criteria for Accreditation.
DIME's areas of expertise include autoimmune diseases, cardiovascular and cardiometabolic diseases, gastrointestinal diseases, pain, and women's health.
DIME is also accredited by the Accreditation Council for Pharmacy Education and is an approved provider of continuing nursing education by the Illinois Nurses Association. DIME uses both digital and face- to face -formats to deliver education that meets the needs of physicians and other healthcare professionals. DIME is part of the Publicis Healthcare Communications Group. For additional information, please visit http://www.DIMedEd.org.
# # #