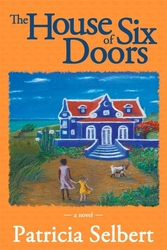 an honest tale of love, independence and American dreams.
Santa Barbara, CA (Vocus) October 8, 2010
Curaçao will become autonomous within the Kingdom of the Netherlands this Sunday, 10/10/10. The future of greater independence brings many possibilities, but the rich cultural history of the island remains. Curaçao author, Patricia Selbert, immigrated to the US (California) from the Dutch island of Curaçao when she was 13. Educated in three countries and four languages, her own story inspired her book, The House of Six Doors. The media kit can be found at: http://thehouseofsixdoors.com/wp-content/uploads/2010/10/HSD-media-kit-2010-11-interactive.pdf
Selbert can discuss:
1) Curaçao's traditions and culture
2) Her story as an emigrant to California, a foreign land, with English as her fourth language
3) Her novel, The House of Six Doors, which was inspired by her life as well as Curaçao's rich culture
Selbert's novel communicates Curaçao's culture to the rest of the world in a very moving story of independence, capturing the flavor, the colors, the traditions and the wisdom of Curaçao. The novel is a coming of age story and a beautiful tribute to Curacao, which is becoming autonomous on 10-10-10. In it, author Patricia Selbert tells the tale of a young girl from Curaçao who finds herself in Los Angeles after her mother decides to leave behind all that they know in search of fortune. Serena's American dream begins at the age of 13, in a 1963 Ford Galaxie that serves as home for herself, her mother, and her sister.
The novel presents a wonderful contrast between colorful Curaçao and grim Los Angeles, woven together with both humorous and deeply moving stories. She juggles an ambitious, bipolar mother, a lecherous acting teacher, an unwanted pregnancy, the loneliness of having her grandmother so far away in Curaçao, and the fear of being deported. She comes to some realizations about the idea of "home". Despite the hardships, her mixed-race (native Arawak and black) grandmother's island wisdom gives her courage and strength.
The House of Six Doors will be released on February 1, 2011, by Publishing by the Seas, based in Santa Barbara, California. The House of Six Doors is available for pre-order at Amazon.com, as a hard bound, soft cover and eBook/iBook, for US $23.97, $12.97 and $7.97, respectively at http://www.amazon.com/House-Six-Doors-Patricia-Selbert/dp/0578064405/ref=sr_1_1?ie=UTF8&qid=1286571430&sr=8-1. It will ship on February 1, 2011.
The independent boutique book publisher is producing a number of beautiful trailers, released through its YouTube Channel. These short movies, true multimedia jewels, are being released regularly to an ever-growing audience, curious to learn more about this new country. The trailers include excerpts narrated by Perry Norton, slideshows of photographs by Isaac Hernández, showcasing the beauty of Curaçao. An upcoming release will be an animation of the process of creating the original painting for the cover.
The multimedia campaign will promote the new country of Curaçao as well as The House of Six Doors. Selbert's novel may very well become one of the important literary works of Curaçao, communicating its culture to the rest of the world in a very touching story that El Mundo, the world's largest news website in Spanish, calls "an honest tale of love, independence and American dreams."
"I think this book will become a national treasure for Curaçao," said Publishing by the Seas CEO, Nancy Black. "What better way to discover this little-known culture, than through a tale of a family from that Caribbean island, their history and journey? It will inspire for Caribbean food, music, and bright colors, peppered with island wisdom."
The title of the book is a clear reference to the Dutch-Caribbean style architecture of the island. "The House of Six Doors" refers to the cobalt blue plantation house in the story, but it also symbolizes the underlying wisdom of the place. Curaçao's architecture embodies its rich history, with elaborate Dutch-style ornate roofs and bright colors. Many beautiful plantation houses remain, known in Dutch as "landhuizen".
"Most of the landhuizen have a salon in the center part of the house, with three doors on either side," explains author Patricia Selbert. "They are directly across from each other in order to let the trade winds breeze through, which is why one of the characters in the book says, 'Three doors to bring in gratitude, wisdom, and compassion, and three doors to let out greed, ignorance, and anger.'"
Curaçao, an island 40 miles north of Venezuela, is one of five islands that form the Netherlands Antilles. In 2004, each of the islands held separate referendums, and as a result, the country of Netherlands Antilles will dissolve on October 10, 2010. That same day, the country Curaçao and the country St. Maarten will be born. Both will be part of the Kingdom of the Netherlands; however, they will each have their own government and legislature. The three remaining islands: Bonaire, St. Eustatius and Saba (the BES-islands), will become special overseas territories of the Netherlands.
Curaçao is a polyglot society. Dutch and Papiamentu are the official languages. Papiamentu is a mixture of Spanish, Dutch, Portuguese and several African languages. Until recently, all instruction was provided in Dutch. Now some schools offer a bilingual primary education in Papiamentu and Dutch. Also widely spoken are English, and Spanish.
Publishing by the Seas, a boutique literary publishing house based in Santa Barbara, California, gives voice to people who make a difference. Sharing rich multicultural roots, our authors explore themes such as positive solutions, self-discovery, beauty, environmental stewardship and social contribution.
For high resolution images (downloadable): http://www.flickr.com/photos/publishingbytheseas
Media Kit Images: http://mercurypress.photoshelter.com/gallery/The-House-of-Six-Doors-Media-Kit-images/G0000xTKYo2fMx04
Additional Images (Curaçao Country):
http://mercurypress.photoshelter.com/gallery/The-House-of-Six-Doors-Landhuizen-and-countryside/G0000dIfRMzsIy7s
Additional Images (Curaçao City):
http://mercurypress.photoshelter.com/gallery/The-House-of-Six-Doors-City-of-Willemstad/G0000ThU5EiCt6fQ
For more information about Publishing by the Seas, The House of Six Doors, to request more material on Curaçao (including photography), or to arrange interviews with author Patricia Selbert, please contact Jeanna Zelin: (480) 298-0928 or jeanna@publishingbytheseas.com.
# # #