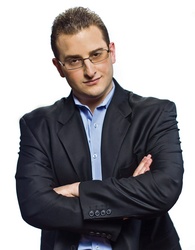 Youth unemployment and underemployment are Gen Y epidemics. Now, more than ever before, we must teach young people how to become self-sufficient small business owners. Who better to do that then their successful entrepreneurial peers.
Hoboken, NJ (PRWEB) October 13, 2010
Scott Gerber, serial entrepreneur, internationally syndicated small business columnist, and author of the upcoming book, Never Get a "Real" Job, today announced the launch of the first-ever Young Entrepreneur Council (YEC); an advocacy group made up of many of the world's most successful young entrepreneurs, business owners and thought leaders. The YEC's mission is to help young people build successful businesses and overcome the devastating epidemics of youth underemployment and unemployment.
"Youth unemployment and underemployment are Gen Y epidemics," said Scott Gerber, the founder of the YEC. "Now, more than ever before, we must teach young people how to create their own streams of income and become self-sufficient small business owners. Who better to do that than their successful entrepreneurial peers."
According to the International Labour Organization, over 81 million young people are unemployed worldwide. Nearly 40% of young people in the U.S. have been unemployed or underemployed since 2008 (Pew Research Center).
"The Young Entrepreneur Council is the first step in a larger campaign to transform millenials into self-sufficient entrepreneurs. I have no doubt that the insights provided by our world class group of young business owners will provide readers with a practical, top notch small business education," said Gerber.
"Young entrepreneurs today need support and advice from those who have already built successful businesses, which is why I'm proud to be part of this project," said Dan Schawbel, author of Me 2.0 and Founder of Millenial Branding.
Initially, YEC members will answer small business questions posed by aspiring Gen Y entrepreneurs on NeverGetaRealJob.com. Readers will be able to ask the Council questions once they sign up for a free user account on the website. The Council will also contribute original content to various media outlets including WSJ, AllBusiness, and Mashable, to name a few.
The Young Entrepreneur Council's first article launched on WSJ.com on October 12, 2010.
The inaugural Young Entrepreneur Council includes:
Aaron Patzer, Mint.com
Adam Gilbert, Chief Body Tutor
Adam Toren, YoungEntrepreneur.com
Anderson Shoenrock, ScanDigital
Annie Wang, Her Campus Media
Anthony David Adams, Credit Covers
Arielle Scott, Gen Juice
Ashley Bodi, Business Beware Radio
Billy Gaines, BPONG
Cameron Johnson, CameronJohnson.com
Cari Sommers, UrbanInterns.com
Dan Schawbel, Millenial Branding
David Hauser, Grasshopper
David Rusenko, Weebly.com
David Siteman Garland, Rise To The Top
Derek Johnson, Tatango.com
Elizabeth Saunders, Real Life E
Gary Whitehill, New York Entrepreneur Week
Genevieve Thiers, SitterCity.com
Harrie Bakst, Carnegie Sports & Entertainment
Ishita Gupta, fear.less
Jack Delosa, The Entourage
Jared O'Toole, Under30CEO.com
Jason Sadler, IWearYourShirt.com
Jennifer Kushell, YSN.com
Jordan Goldman, Unigo.com
Josh Kowitt, College Boxes
Josh Weinstein, CollegeOnly.com
Juliette Brindak, Miss O & Friends
Jun Loayza, Viralogy
Kent Healy, KentHealy.com
Kristen Ruby, Ruby Media Group
Lauren Berger, Intern Queen
Louis Lautman, Young Entrepreneur Society
Lucas Sommer, Audimated
Luke Burgis, ActivPrayer
Maia Josebachvili, Urban Escapes
Marin Kate, Escapingthe9to5.com
Matt Mickiwiez, 99designs
Matt Wilson, Under30CEO.com
Matthew Toren, YoungEntrepreneur.com
Michael Simmons, Extreme Entrepreneurship Tour
Morgan First, The Second Glass
Natalie MacNeil, She Takes on the World
Nathan Blecharczyk, AirBNB.com
Nathaniel Broughton, GrowthPartner.com
Nick Friedman, College Hunks Hauling Junk
Omar Soliman, College Hunks Hauling Junk
Paul Bragiel, Ventures IO
Rahim Fazal, Involver
Ramit Sethi, IWillTeachYouToBeRich.com
Ryan Allis, iContact
Ryan Holmes, HootSuite
Ryan Paugh, Brazen Careerist
Scott Gerber, SizzleIt.com
Scott Ginsberg, HelloMyNameIsScott.com
Shama Kabani, Marketing Zen
Sheena Lindahl, Extreme Entrepreneurship Tour
Shira Lazar, ShiraLazar.com
Stefanie Kaplan, Her Campus Media
Timothy Sykes, TimothySykes.com
Vanessa Van Petten, RadicalParenting.com
Windsor Hanger, Her Campus Media
"This is only the beginning," said Gerber. "There is a lot more in store for 2011."
NeverGetaRealJob.com will also offer other content for young entrepreneurs and small business owners including videos and blogs.
To ask a question or to learn more about each member of the YEC, visit NeverGetaRealJob.com/Council.
For information about how to syndicate exclusive or non-exclusive Young Entrepreneur Council content to your media outlet or to discuss strategic partnership opportunities, email syndicate(at)askgerber(dot)com.
About Scott Gerber
Scott Gerber is a serial entrepreneur, internationally syndicated small business columnist, and in-demand speaker. He is the founder and CEO of Gerber Enterprises, an entrepreneurial incubator and venture management company that invests capital, management expertise, and marketing services into innovative early and mid-stage companies. Founded in 2004, the company has since launched a diverse portfolio of businesses, including Yearbook Innovation, an end-to-end provider of print and digital media school memory products and services; and Sizzle It!, the expert in sizzle reel production for a global clientele of public relations, marketing and advertising firms. Scott is also the Editor-in-Chief of NeverGetaRealJob.com, the host of the upcoming web video show Ask Gerber and the author of the book, Never Get a "Real" Job (Wiley, December 2010). He has been featured in news outlets such as FOX Business, WSJ, Entrepreneur, Inc., The Huffington Post, New York Post, Open Forum, Forbes, The Street, AllBusiness, Mashable and The Business Insider. His syndicated columns appear regularly in media outlets such as Entrepreneur, WSJ, Business Insider, MSNBC, and FOX Business. Follow Scott on Twitter @askgerber.
For more information about booking Scott for speaking engagements, media appearances or Skype, phone or email interviews, please contact Steve Gnoza at steve(at)gerberentertainment(dot)com.
For more information about booking Scott to speak on college campuses please contact Scott Talarico at scott(at)neon-entertainment(dot)com.
About The Book: Never Get a "Real" Job: How To Dump Your Boss, Build a Business and Not Go Broke
A lot of business books hold your hand, make you feel good, and are set to convince you that your passion and "unique" business idea are enough to plow through your competition, garner new leads, and make millions just because you can write a business plan that says so.
This is not that kind of book.
A twenty-something hustler, rainmaker and bootstrapper who has survived and thrived despite never having held the proverbial "real" job, Scott Gerber is the ultimate "Generation Y-er." He's a self-taught serial entrepreneur who has built several successful businesses without storied business connections, a business school background, executive training—or investment dollars. And in Never Get a "Real" Job, he shows you how he succeeded so you can overcome today's chronic conditions of mass unemployment, underemployment, and dead-end 9-to-5s.
Gerber gives you the no-bull reality on turning your business idea into a viable enterprise capable of generating real income now—based on his hard-knocks lessons learned in the entrepreneurial trenches. From the perils of doing too much too fast, to bogging down a promising start-up with infrastructure long before it's needed, Gerber has experienced firsthand how you can sabotage your own business. Never Get a "Real" Job will help you to avoid the costly mistakes that can take down your enterprise at any time, helping you to get off the ground, establish your business and stay successfully up and running.
But Gerber isn't just giving you a collection of war stories. He gives you insights from a fellow young entrepreneur on how to start from absolutely nothing—building a viable business model from the ground up. Along with straight-shooting advice on creating contacts and cultivating clients, he gives practical, affordable, step-by-step instructions on how to constantly analyze, refine, and target your business offerings—while minimizing wasted time and keeping you on track.
With vast resources to online tools, websites, checklists, and hard coaching, as well as thousands of dollars worth of connections to free and discounted small business services, Never Get a "Real" Job takes you off the unrewarding resume and cover letter cycle, while putting you on the road toward becoming a self-sufficient business owner, and creating a life that gives you a real shot at the success you deserve.
Scott Gerber's new book, Never Get a "Real" Job: How To Dump Your Boss, Build a Business and Not Go Broke (Wiley), will debut December 8, 2010 everywhere books are sold. The book is now available for pre-order on Amazon, Barnes & Noble, Borders and NeverGetaRealJob.com.
To request a galley of the book for review please email review(at)askgerber(dot)com
For more information about bulk purchases, please contact Steve Gnoza at steve(at)gerberentertainment(dot)com
###