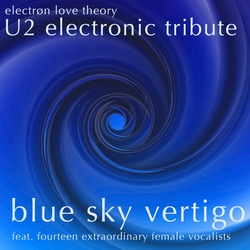 I Still Haven't Found What I'm Looking For
Los Angeles, CA (Vocus) October 12, 2010
Electron Love Theory announces the release of U2 Electronic Tribute: Blue Sky Vertigo — featuring fourteen extraordinary female vocalists. The album is available on digital stores worldwide, October 12, 2010.
U2 Electronic Tribute: Blue Sky Vertigo is a collection of some of Rock Music's best selling songs. Fusing gorgeous female vocals with electronic beats, acoustic and electric guitars, these songs range from the synthesizer charged dance track "Vertigo" to the quiet down-tempo hits, "I Still Haven't Found What I'm Looking For," "Sunday Bloody Sunday," "With or Without You" and "One."
Each song features a different female vocalist interpreting Bono's lyrics with her own unique sound and style. The singers include Flora McGill, who was recently named "Best Female Jazz Vocalist in Seattle," Kelly Ash, who has worked with Rebecca Parris, Dawn Clement and Jovino Santos Neto, and Allison Bazarko of the vocal trio Foiled Again. Also appearing on the album are guest instrumentalists Aaron English on piano, drummer Moses Gershbein, and guitarist Leif Tofusek.
Already adept at combining music with cultural politics, Electron Love Theory is inspired by U2's lyrical messages and Bono's work with the ONECampaign and Project RED. A portion of the profits from U2 Electronic Tribute: Blue Sky Vertigo will go to these worthy causes. Electron Love Theory has also landed more than 500 feature placements in film, TV and multimedia with companies such as MTV, VH1, HBO, NBC, A&E, Discovery, Universal and many others.
The project's founding musician/ producer Jeff Leisawitz received the title, "Best Independent Electronic Artist in the World" from ArtistDirect.com in 2000 for Electron Love Theory's self title debut. That release features interviews of powerful personal stories— from a blind man, a heroin addict, a former prostitute, a Buddhist mystic, etc.— blended with electronic music.
Electron Love Theory took shape over a decade ago after Leisawitz recorded interviews with protestors from Seattle's WTO demonstration and combined the sound bytes with electronic music. That song, "Power of the People," landed on the front pages of numerous websites including Real Networks, MSN and USA Today. Leisawitz also teaches music business classes and consults with numerous musicians in an effort to empower independent artists to reach their goals.
Blue Sky Vertigo is available everywhere on October 12th, 2010. To preview the album, please follow this link: http://bit.ly/BlueSkyPreview
Tracks:
1. Vertigo (3:14)
2. I Will Follow (3:46)
3. All Because of You (3:57)
4. Two Hearts Beat as One (4:21)
5. Walk On (4:56)
6. Bullet the Blue Sky (4:45)
7. Beautiful Day (4:18)
8. New Year's Day (5:53)
9. I Still Haven't Found What I'm Looking For (4:39)
10. Bad (5:45)
11. Sunday Bloody Sunday (4:45)
12. One (4:24)
13. With or Without You (5:28)
14. All I Want is You (4:49)
For a review copy of the CD, please contact Heather Noonan at BFM Digital: pr(at)bfmdigital(dot)com or 818-762-0191
For more information, please visit: http://lovetheory.com/
About BFM Digital, Inc. BFM Digital is a global digital music company committed to serving the independent music community and delivering quality music, spoken word and video content to leading online retailers worldwide. Representing a diverse catalog of indie labels, artists and publishers, BFM distributes to all of the major music services including iTunes, Amazon, Rhapsody, eMusic, Napster, Walmart, Nokia and many more. With an unparalleled commitment to personalized service, BFM works closely with their content providers from around the world to ensure maximum exposure of their catalog by customizing marketing efforts and building strong relationships with BFM's digital store partners.
# # #