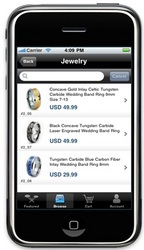 "Our 12 years of professional services, development and integration capabilities, coupled with our strong team of 400+ developers, allows us to tailor our mobile framework to a client's specific environment, so we grow with them as their needs grow."
San Francisco, CA (PRWEB) October 11, 2010
Exadel Mobile Solutions, a division of Exadel™, Inc. today announced the launch of the Exadel Mobile Platform, a suite of mobile offerings enabling customers to quickly and efficiently mobilize their business for commerce, content, community and collaboration.
Exadel's modular, end-to-end platform helps companies quickly and efficiently integrate mobile channels into their business. The full suite of mobile capabilities can be licensed as an entire solution or in the form of modules addressing various mobile requirements, and can be integrated into any back end or custom systems companies may have.
"Companies with mobile initiatives want flexibility and a proven technology partner", said Board Advisor and Exadel Mobile Solutions Interim CEO Brian Silverman. "Exadel's modular approach helps companies quickly deploy mobile technologies to increase customer and brand loyalty, improve productivity, and drive revenues. Our 12 years of professional services, development and integration capabilities, coupled with our strong team of 400+ developers, allows us to tailor our mobile framework to a client's specific environment, so we grow with them as their needs grow."
The Exadel Mobile Platform consists of four modules:
Exadel Mobile Commerce

Drives revenue by increasing store traffic through promotions and coupons, enabling people to buy anywhere/anytime
Exadel Mobile Content

Delivers content directly to the retailer's customers to increase product knowledge and ultimately accelerate the purchasing process
Exadel Mobile Community

Enables companies to build and extend communities and allows consumers to undertake social shopping while creating brand loyalty
Exadel Mobile Collaboration

Optimizes employee productivity and collaboration by delivering real-time mobile data to the enterprise
The Exadel Mobile Platform consists of a Mobile Server core and mobile clients that are integrated with it. A Mobile Server delivers security, integration, messaging, and localization support out of the box. At the same time, its modular architecture lets customers quickly assemble solutions and customize them to fit their unique business processes. Mobile clients, supported by the Exadel Mobile Platform, include native iPhone and Android applications, as well as mobile web applications that run on virtually any smartphone device.
About Exadel
Exadel™, Inc is the leading provider of innovative Web 2.0 application software and professional services that help organizations deploy the rich Internet applications they need to claim leadership in their markets. The company specializes in delivering fast, scalable and cost-effective solutions that leverage a global sourcing model and Open Source technologies to reduce application lifecycle costs and improve overall productivity. Exadel also offers a comprehensive suite of enterprise information access solutions that makes the next generation of collective business intelligence software as collaborative and easy to use as the Web.
Founded in 1998, Exadel is privately owned with headquarters in the San Francisco Bay Area and development offices in New York, Chicago, Minsk, Moscow and Ukraine. For more information, go to http://www.exadel.com or call 1.888.4EXADEL.
Note to Editors: Exadel is a registered trademark of Exadel, Inc.
Press Contact
Brian Silverman
Exadel, Inc.
925-602-5558
bsilverman(at)exadel(dot)com
# # #