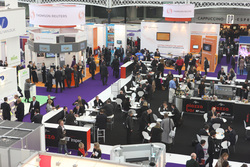 "Survival is all about being innovative with the resources we have, developing new and more effective ways of working and creating products that will sell in an increasingly competitive market."
(PRWeb UK) October 10, 2010
Information Management Professionals will again converge in London at the Grand Hall, Olympia at the end of November for one of Europe's most important industry events.
Online Information Exhibition attracts more than 9000 visitors each year from over 40 countries across the globe. This unique free to attend event consists of an exhibition with more than 200 international exhibitors plus an extensive educational show floor seminar programme. The show covers 6 different areas: Content Resources, ePublishing Solutions, Library Management, Content Management, Search Solutions and Social Media. A range of exciting and stimulating show features designed to focus on new technologies and key sectors will be a major focus within the 2010 event including; the XML Pavilion, Library Systems Zone, French Pavilion, Global Business Information Forum, European Librarians Theatre and International Forums.
Online Information Conference, Europe's most important education event for the Information Industry runs in conjunction with the exhibition. Discover new ways of working in the linked and social web is the headline topic for 2010. Stephen Dale, who takes the helm for the first time this year as the Online Information Conference Chairman says, "Survival is all about being innovative with the resources we have, developing new and more effective ways of working and creating products that will sell in an increasingly competitive market. Adapting to a changing environment is no easy task but one that also offers abundant opportunities for the information professional and this year's conference gets to the heart of these issues." For the full programme, please visit: http://www.online-information.co.uk
Opening Times
Exhibition Conference
Tues 30 November 10:00 – 17:00 08.00 – 18.30
Weds 1 December 10:00 – 17:00 08.00 – 17.30
Thurs 2 December 10:00 – 16:00 08.45 – 15.45
Admission
Registering in advance entitles visitors to free fast track entry saving time on the day or visitors arriving without pre-registering will be charged £15 as they arrive. To register in advance visit http://www.online-exhibition.co.uk
Websites
For comprehensive event and industry information and free downloads of conference podcasts, guru interviews, case-studies and white papers visit: http://www.online-exhibition.co.uk
or twitter tag: #online10
Organisers – Incisive Media Events
###