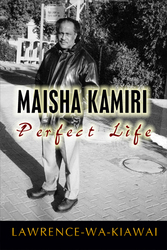 Topeka, KS (Vocus) October 12, 2010
Maisha Kamiri: Perfect Life, a new book by Lawrence-Wa-Kiawai, has been released by RoseDog Books.
The book is about the struggle of the Kenyan people during the domination and the occupation of the country by the British imperialism in the 1900s through 1963. The author outlined the pains and the sufferings the masses endured during this period. Mr. Isengu-Wa-Muthembwa expressed his anger and the dissatisfaction through his music. The songs served as the form of therapy, and they gave hope and comfort to the other customers in the club.
Mr. Isengu was conscious of the mau-mau liberation movement, and he encouraged the freedom fighters, the mau-mau, to keep on fighting. He strongly believed the fighting was the only solution to gaining the independence. He also urged the masses to work hard after securing the freedom in order to demonstrate to the former masters, that the Kenyans were worth the freedom.
Author Lawrence-Wa-Kiawai was born in the Masaku District, which is situated to the eastern side of Kenya. The area is inhabited by the Kamba Tribe. The author completed most of his early education in his native land. He is a certified elementary school teacher, and he taught fourth through seventh grade for seven years before coming to America in 1976. He attended Emporia State University in the eighties, where he earned a B.Sc. in Political Science. Since leaving the college, he has worked in the capacities of a certified mental technician I, a youth specialist I, a Juvenile Correctional Officer I, and a certified mental disability specialist I. His immediate brother holds a bachelor degree in Chemical Engineering and a Master's in Business Administration.
While attending the university in Kansas, the author met a lot of students from different parts of the world. In the book, he has listed some of the names he still remembers and sends his warmest greetings to them in their respective countries all over the world. He asks those whose names do not appear to forgive him.
The author's hobbies are writing and visiting Barnes and Noble bookstore on his days off.
Maisha Kamiri: Perfect Life y is a 186-page paperback with a retail price of $16.00. The ISBN is 978-1-4349-9721-0. It was published by RoseDog Books of Pittsburgh, Pennsylvania. For more information or to request a review copy, please visit our virtual pressroom at http://www.rosedog.com/pressroom or our online bookstore at http://www.rosedogbookstore.com.
###