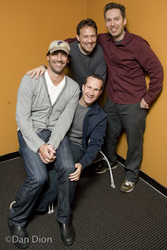 Los Angeles, CA (PRWEB) October 12, 2010
Before he was ever on "30 Rock", and "Saturday Night Live", Jon Hamm showed off his razor-sharp comedic instincts on the Los Angeles-based comedy podcast "Never Not Funny". Mr. Hamm returns to the long running podcast on its most recent episode, released October 11, 2010.
Host Jimmy Pardo is thrilled to welcome Jon back the program because "it gives people a chance to see Jon being Jon - funny, charming... Hell, even his voice is handsome."
While Never Not Funny's full 90-minute weekly show is made available exclusively to paid subscribers, Pardo and his producer/co-host Matt Belknap decided to make an exception for this episode. Said Belknap: "Every once in a while we like to do something special for the fans who can't afford a season pass but still listen to the 20-minute version of the show every week, and this episode was so much fun to record that we decided to release the whole thing for free."
That means anyone with an Internet connection can go to iTunes and search "Never Not Funny" or visit http://pardcast.libsyn.com and download the full 90-minute show.
Now in its fifth year, "Never Not Funny" is a weekly audio+video podcast with thousands of paid subscribers and downloads in the millions. Hosted by nationally touring comedian Jimmy Pardo and produced by aspecialthing.com founder Matt Belknap, the show has remained in iTunes' Top Comedy Podcasts since its first season. It won the Aspen Rooftop Comedy Award for Best Comedy Podcast in 2008 and has been featured in magazines like Fast Company (April 2009), Esquire (Editor's Pick, September 2009) and GQ, which named it the #1 "Relatively Obscure Thing You Need To Be Paying Attention To" in their 2010 Comedy Issue.
Past guests have included Conan O'Brien, Sarah Silverman, Ty Burrell, Kevin Pollak as well as the elite of today's stand up comedy scene.
Contact: Matt Belknap | 310.770.1386 | pardcast(at)gmail(dot)com
http://pardcast.com
###