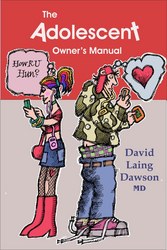 parents should consider the wisdom in Dawson's inclusive approach. His advice could have prevented the serious damage I personally witnessed with my own daughter, said Susan Inman author of After Her Brain Broke: Helping My Daughter Recover Her Sanity
(PRWEB) October 13, 2010
Psychiatrist David Laing Dawson's common sense advice in his newly released book, The Adolescent Owner's Manual, recommends that parents almost always be present when their adolescent is seen by a counselor.
"Don't just send your son or daughter to a counselor," Dawson says, but rather attend together as a family. "Problems," he goes on to say, "are family matters and as much as you may want to avoid the pain, the confrontations, the accusations, you, as parents have far more power to influence your teen than counselors do. And if your teen is developing a mental illness, you want to be there for him and with him throughout."
Unfortunately, Dawson adds, most counselors are reluctant to see the entire family together because family therapy is a minefield and very difficult to do, especially with modern complex, often single parent or blended families. Many counselors also do not have the skills to see and treat the entire family, or the teen within her family.
It is so much easier for the counselor to just see the teen alone and let him or her complain about life, their parents and unfair teachers. But then the parents have no involvement or knowledge of what is being said or recommended by the counselor, and their own power to influence what happens next is diminished.
Author Susan Inman agrees. She said "we really don't know what kind of training or views many counselor/therapists have so parents should consider the wisdom in Dawson's inclusive approach. His advice could have prevented the serious damage I personally witnessed with my own daughter." Her daughter's therapist insisted on seeing her alone in what turned out to have been the early stages of undiagnosed serious mental illness. Not only was the therapist ignorant about these disorders but she undermined later treatment as described in her book After Her Brain Broke: Helping My Daughter Recover Her Sanity..
The Adolescent Owner's Manual is a practical guide for today's baffled parents. It is a refreshing look at the puzzling world faced by today's teens and their parents and offers practical advice in a fun and relaxing style.
The goal of parents, Dawson says, is to get your adolescent into adulthood, alive, preferably educated and skilled, without a major drug problem or criminal record or pregnancy. Anything more is icing on the cake and a pleasure to behold. And this book serves as support and encouragement to parents to do the right thing and to succeed in getting their teens into adulthood.
Organized in the style of a computer manual, the book provides insight into what your teen is thinking, why they do what they do and how best to deal with the issues. In a section called "troubleshooting", Dawson describes many of the common problems and situations faced by modern parents and then provides solutions based on his experiences both as a clinical psychiatrist and from his own experiences as a parent.
His section, FAQs provides answers to issues like sex and pregnancy, drugs and alcohol, and eating disorders. In fact, his views on anorexia and bulimia should be read by any parent facing those issues. As some teen behavior may be indicative of more serious psychiatric problems, he has a section devoted to those with the typical warning signs.
What makes this book both informative and entertaining is that Dawson is both a psychiatrist (a former professor of psychiatry and psychiatrist in chief of a large psychiatric facility, and author of academic texts) and also a noted mystery writer and film director. His mysteries have been translated into seven languages, have been compared to those of Robin Cook, and his novel, Slide in All Direction, was described as a cross between Elmore Leonard and a Seinfeld episode.
His films include documentaries on mental illness and a feature film, Cutting For Stone, dealing with a teen developing schizophrenia.
###