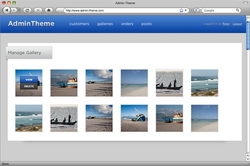 Clients praised the aesthetics and sleekness of the theme
Alpharetta, GA (PRWEB) October 12, 2010
With thousands of admin sites around the world typically sharing a dull and boring interface, Admin Theme sets to change this with their newly launched theme.
The importance of admin sites are typically overlooked when it comes to delivering a site to a client, yet it's often the area in which clients and website owners spend the most time in.
It literally takes minutes to implement Admin Theme on an existing admin site while the result leaves a lasting impression on clients.
Admin Theme can be used to theme any existing admin site - from Wordpress, Drupal and Joomla admin panels to custom ASP.NET and PHP admin sites.
Feedback during the beta phase of the theme's development has been very positive, with clients praising the aesthetics and sleekness of the theme, to others commenting on better productivity in day to day use as a result of the increased usability that the theme offers.
Admin Theme is available for $29.99, and includes a fully customizable HTML and PSD template.
For more information, go to http://www.admin-theme.com.
# # #