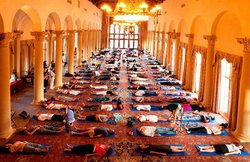 "The ultimate goal of NSEV™ Healing is to help create overall harmony in the way a person interacts with themselves and the world around them," said Daniel Atchison-Nevel. "What better place for creating a fabulous healing experience than in the elegant B
Coral Gables, FL (PRWEB) October 12, 2010
On Sunday, October 17, 2010, at 5:00 PM, 150 self-selected participants at the Biltmore Health & Wellness Festival will share the ultimate healing experience in the elegant Grand Ballroom of the Biltmore Hotel in Coral Gables, Florida. After enjoying a cup of "Emotional Ease" tea, they will relax on yoga mats, and receive the same acupuncture treatment, sharing 20 minutes of collective peace and tranquility while listening to soothing live music performed on the didgeridoo. At the end of the experience, participants will be invited to share their raw impressions in a community artistic mandala creation. The World's Largest Shared Group Acupuncture Experience will be broadcast live on http://bit.ly/NSEVhealing so that observers anywhere in the world will be able to join the collective experience via a live web stream. And to enhance the collective nature of this unique event, the experience in Florida will be shared with a group of participants across the globe in the United Kingdom, which viewers will also be able to share on the live web stream.
The World's Largest Shared Group Acupuncture Experience is the climactic event in a weekend of workshops, lectures, demonstrations, and experiential events, all offering solutions to achieving a healthy lifestyle, at the Biltmore Health & Wellness Festival, taking place from Friday, October 15 through Sunday, October 17, 2010. The "Shared Group Acupuncture Experience" is the brainchild of Daniel Atchison-Nevel, a noted acupuncture physician who has explored the collective healing experience for more than two decades. Atchison-Nevel is best known as the founder of NSEV™ Healing & Acupuncture, a modern adaptation of an ancient Chinese healing system that integrates mind, body and spirit.
"The ultimate goal of NSEV™ Healing is to help create overall harmony in the way a person interacts with themselves and the world around them," said Atchison-Nevel. "What better place for creating a fabulous healing experience than in the elegant Biltmore grand ballroom, during a festival dedicated to healthy living."
This year's festival has been expanded to three full days of exciting events, all leading up to Sunday's day-long Acufest celebration, where participants will experience, engage in, and enjoy the full spectrum of solutions for healthy living. The festivities include organic food and wine tastings, an herbal elixir bar, culinary demonstrations, yoga classes, guided meditations, energy healing, Qi Gong workshops, and Tai Chi. Experts will be on hand to offer tips on golf, fitness trends, family nutrition, community wellness, and environmental health issues. Participants will be able to consult with healthcare professionals from the University of Miami Medical School's Center for Complementary and Integrative Medicine, and learn from prominent acupuncturists, practicing physicians and professors of Chinese and Ayurvedic medicine. The festival is also filled with a variety of fun activities that families can enjoy with their children, including painting a community mural, filmmaking, a storytelling project, and creative movement to joyful music.
"Last year's inaugural Acufest attracted more than a thousand festival-goers," said Atchison-Nevel, "and many have told me they are looking forward to returning this year and bringing their friends. I hope many of them will stay through the day on Sunday, so they can share in a collective healing experience that promises to be unforgettable."
The live stream of the World's Largest Shared Group Acupuncture Experience can be viewed at http://bit.ly/NSEVhealing and followed on http://twitter.com/NSEVhealing.
The Biltmore is located at 1200 Anastasia Avenue, Coral Gables, Florida 33134. For more information about events, including times and ticket prices, visit http://biltmorehealthandwellness.com or http://acufest.com.
To arrange an interview with Daniel Atchison-Nevel, founder of Acufest and NSEV Healing, or Jared Bistrong, musical director of the event and didgeridoo performer, please contact Ellen Gray at gray(dot)matters(at)mac(dot)com. Please go to http://nsevhealing.com/ for more information about shared group acupuncture experiences and NSEV Healing.
###