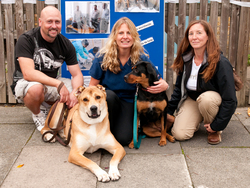 London, UK (PRWeb UK) October 12, 2010
As part of World Animal Week, The Mayhew Animal Home hosted an event on Saturday 9th October to promote their animal welfare work abroad as Mayhew International. Sharing updates from their projects around the globe, visitors were also able to meet a couple of the dogs from other countries that Mayhew International had assisted.
This included Bear, who arrived at The Mayhew in February 2009 after a soldier initiated his rescue from Afghanistan, but was left in UK quarantine without a home to go to. At only a few months old, Bear's ears and tail had been brutally cut off in preparation for dog fighting and was incredibly lucky to be saved. The Quirke family adopted Bear in December 2009 and he now lives in a very happy home with two other dogs, such a very different life to the one intended for him in Afghanistan.
Bear and other visitors at the event also had the chance to meet Brecky, a street dog from Romania, who was adopted from The Mayhew four years ago, after he was brought to the rescue centre in Kensal Green following assistance given to a partner organisation working in Romania.
The Mayhew CEO, Caroline Yates, said: "It was wonderful to be able to share with visitors The Mayhew's international side and tell them about the animal welfare initiatives we are involved in abroad. It is fantastic to share with others less fortunate than ourselves, what we do so well at The Mayhew. Our flagship programme is helping to control and contain dog and cat street populations abroad, by sending Mayhew vet team to countries such as Peru and Russia to assist with sterilisation drives and also to provide workshops and seminars to vet students. To see Bear and Brecky at our event was a poignant reminder of how many other innocent animals we must help with our projects abroad."
For more photographs from the event, please contact Sarah Dickinson 020 8968 2443 sarah(at)mayhewanimalhome(dot)org
For the Editor
Mayhew International works to promote companion animal welfare and the humane management of homeless cats and dogs through a network of community animal care initiatives. Our work with vets interested in this area of animal welfare has a special significance for international development, benefiting communities in developing countries, many of whom rely on their animals for support.

We advocate neutering as the most humane method of dealing with the overpopulation of companion animals.
We offer information and advice on the setting up and running of sterilisation programmes.
We collaborate with other welfare organisations and university veterinary faculties to provide low-cost veterinary services for local communities.
We work with governments and local authorities in an advisory capacity to improve companion animal welfare conditions under their jurisdiction.
We offer training for overseas veterinary personnel and animal welfare organisations.
###