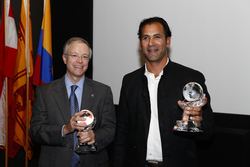 "How appropriate that these awards recognize those companies and individuals who are asking the same question and taking the necessary steps to achieve positive change in our world." says Ed Futa General Secretary of Rotary International
Great Barington, Ma (PRWEB) October 13, 2010
Relief Riders International was named the winner in the small business category and Hallmark Cards Inc was awarded in the large business category. "Celebrate Positive congratulates Hallmark Cards Inc. and Relief Riders International for exemplifying affirmative activities in all fields of human endeavor, which is proving to be the catalyst for a movement," said Scott Pederson, President and CEO, Celebrate Positive. "Each nominee and nominating nonprofit are examples of how we can work together to positively impact the world."
For six years RRI has organized horseback and camel cart journeys through several breathtaking areas of India while delivering critical aid to rural communities. Its "Give The Gift of Sight" and "Give a Goat" programs have transformed the lives of local villagers. All Relief Riders participate in the free medical clinics RRI provides, help distribute goats to families in need, and school supplies to local children. During the ten rides it has offered, RRI has treated close to 16,000 villagers, including 10,000 children. The medical staff has coordinated a varied program that offers free general care, cataract eye surgery, dental surgery, and an extensive de-worming project.
"We at Rotary International (RI) are honored to serve on the voting committee for the United Nations NGO Positive Peace Awards," says RI General Secretary Ed Futa. "Every day, Rotary's 1.2 million members address the question, how do we make our world a better place? How appropriate that these awards recognize those companies and individuals who are asking the same question and taking the necessary steps to achieve positive change in our world."
At the Awards Ceremony at Hallmark headquarters in Kansas City on October 5, 2010, Alexander Souri, RRI's Executive Director declared: "We are incredibly proud to receive this award. People are drawn to our trips because they love the idea of traveling with a positive purpose. Of course, they love immersing themselves in the culture and customs and the beauty of India. But more than that, they are so grateful to be giving something important back to those who live in the places we travel to. We are very grateful that the United Nations NGO Positive Peace Award committee has recognized our work."
Relief Riders International has scheduled three rides for the 2010/2011 fall and winter season. The New Year's Relief Ride takes place between December 28, 2010 and January 12, 2011. While delivering care, riders will enjoy the spectacular and unusual landscapes of Southern Rajasthan. Our rides are limited to 12 participants and riders have their choice of traveling by horseback on our extraordinary Marwari horses or on our unique camel-carts.
The Narlai Relief Ride begins on January 25, 2011 and ends on February 7, 2011. Along the way, we'll meet Rebari villagers and learn about the ecological principles that guide their lives.
The Sardar Samand Relief Ride starts February 23, 2011 and lasts until March 9, 2011. Our new itinerary winds itself around the stunning Aravelli mountain range taking us from the lakeside Sardar Samand Fort to Kumbalgarh. Built in the 15th century to protect its people, Kumbalgarh boasts the world's second longest wall. The Sardar Samand journey offers unparalleled vistas of the Thar Desert.
For more information:
Alexander Souri
Founder & Executive Director
Relief Riders International
PO Box 615
Great Barrington, MA 01230
USA
Tel: 413.329.5876
http://www.reliefridersinternational.com
Email: mailto:info(at)reliefridersinternational(dot)com
###