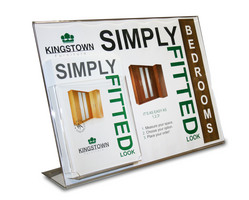 Having identified a gap in the market for a less expensive way to create a fitted look bedroom, we launched three new 'simply fitted look' furniture ranges earlier this year
(PRWeb UK) October 12, 2010
Kingstown introduce new P.0.S. material for 'Simply Fitted Look' range
Kingstown Furniture, the UK's leading manufacturer of ready assembled bedroom furniture, has introduced new point of sale (P.O.S.) marketing material for its 'Simply Fitted Look' range, designed to help furniture retailers assist their customers to 'simply' select the right furniture for their bedroom.
The new POS package comprises an attractive A3 landscape acrylic display with a dispenser for A5 sales leaflets. The A5 leaflets feature attractive images of each of the new 'Simply Fitted Look' ranges – the Nicole, Louise and Michelle – together with details of the all the packages available to suit every room. The new P.O.S. material will be delivered to retailers shortly.
"Having identified a gap in the market for a less expensive way to create a fitted look bedroom, we launched three new 'simply fitted look' furniture ranges earlier this year", said Geoff Brailsford, Group Sales Director for Kingstown. "And I'm delighted to report that all three finishes are selling extremely well."
He continued…
"The key message is that all it takes is three 'simple' steps: 1. Measure your space; 2. Choose your option; 3. Place your order!
"There are thirty left-hand or right-hand packages to choose from and the purpose of the new P.O.S. material is to make it even easier, with the retailer's support, for customers to make a decision and place an order straight away. This is the first time that we've offered such detailed POS material and we look forward to receiving feedback on it. "
With over 30 years' experience of furniture manufacture, Kingstown is committed to manufacturing high quality bedroom and lounge furniture here in the UK. With extensive, state-of-the-art manufacturing facilities at Hull, East Yorkshire, the business is well placed to respond quickly to customer requirements.
Copies of Kingstown Furniture's current brochure can be obtained by downloading from Kingstown's website: Kingstown website or ring 01482 717232
###