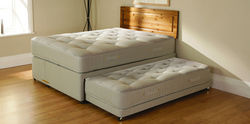 ... The 2012 London Olympics are presenting a once-in-a-lifetime opportunity for the hotel and guest accommodation trade...
(PRWeb UK) October 13, 2010
Hotel Mattress's UK-based production operations relocated in the second quarter of 2010, facilitating an increase in their manufacturing capacity and a reduction in delivery times. This timely improvement in production efficiency has enabled Hotel Mattress to effortlessly fulfil the annual peak in manufacturing during the third and fourth quarters, as hotels and guest providers prepare for the Christmas and New Year high season. The increased production capacity has also ensured that Hotel Mattress is ideally placed to meet the forecasted increase in demand for cost-efficient and versatile contract furniture solutions, well in advance of 2012.
Online registration for eight million Olympic event tickets opened in March 2010, with tickets going on sale in the spring of 2011. It is expected that demand for hotel and guest accommodation bookings will increase significantly upon the commencement of ticket sales. There is, therefore, an onus on accommodation providers to ensure that their optimum bed capacity is realised in good time in order to allow them to capitalise on advanced bookings throughout 2011 and early 2012.
Hotel Mattress Sales Manager James Welch explains how Hotel Mattress can help hotels and accommodation providers to increase bed capacity with relative ease, "If there's anything we can learn from the run up to the 2010 Commonwealth Games, it's that early preparation is paramount. The 2012 London Olympics are presenting a once-in-a -lifetime opportunity for the hotel and guest accommodation trade, and maximising bed capacity at this time is imperative to maximising on advanced bookings. Innovative furniture solutions, such as zip and link beds, folding beds and stowaway divan beds are one of the most cost-efficient ways to maximise bed capacity – they're not only versatile, but can increase a business's bed capacity without adding more rooms".
The Hotel Mattress online catalogue is home to a number of contract furniture solutions that allow greater flexibility in room allocations and arrangements. Hotel Mattress's contract divans are not only a best-selling contract bed option, but can now be constructed to include stowaway divan beds that are flawlessly stored out of sight under the valance when not in use.
Another innovative solution offered by Hotel Mattress includes their popular contract zip and link beds. The beds and mattresses can be used as standalone beds in twin, quad and family rooms, but can also be securely linked together in a matter of seconds, effectively changing the room's layout to suit the occupants' needs. In addition, Hotel Mattress also supplies traditional hotel folding beds, which are not only easily stored, but also come supplied with foldaway high-quality hypoallergenic memory foam mattresses for increased comfort and independent support.
Hotel Mattress now offers an improved UK delivery service, fulfilling and delivering orders within a 1-2 week timeframe – significantly reducing typical delivery times of 6-8 weeks offered by most contract furniture suppliers. Hotel Mattress have also extended their late ordering period, with orders placed within the week commencing December 13th delivered in time for Christmas.
Hotel Mattress offers a large collection of contract bed furniture solutions, allowing customers to customise their contract beds and mattresses. James Welch believes that one of Hotel Mattress's greatest strengths lies in their '... ability to provide a completely bespoke service, meaning that our customers not only benefit from versatile hotel bedding solutions, but can also specify their exact bed frame and mattress sizes, as well as their unique upholstery requirements. Ultimately this means that Hotel Mattress customers don't have to make any compromises on their ideal designs and budget allocations".
About Hotel Mattress
Hotel Mattress is a leading UK manufacturer and supplier of custom build contract beds and mattresses. Hotel Mattress supplies both domestic and commercial accommodation markets, specialising in contract (Crib 5/Source 5) bedding and furniture.
# # #