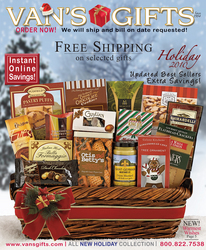 Long Beach, CA (PRWEB) October 13, 2010
A Van's Gifts Basket always includes an unexpected fun or practical element, such as presenting gourmet chocolates in a fabulous copper window planter, or gourmet foods displayed on an antique, hand-forged two tiered stand (Item F355 Chocolate! Chocolate! and Item F303 Entertaining Tray Set). From wine aerators and bamboo cutting boards to serving trays, wine totes and vintage travel cases, Van's Gifts has raised the bar by including keepsakes in every single basket. "Such personal accents add depth and extra value making for a truly memorable gift," states Colover. "Every Van's Gift has a personality all its own."
Equally impressive are Van's Gifts wine gift baskets, which feature outstanding selections from around the world. From Napa Valley to Italy and France, Van's Gifts has the best wine country has to offer, making it simple to find the perfect gift for the wine enthusiast on your list. Italian wines are usually ranked among the highest in the world, and the "Bella Venezie" collection is no exception, featuring Villa Sonia wines from Veneto and Tuscany. Van's Gifts president Reva, the artist behind these creations, has also designed breathtaking baskets centered around France's five great wine producing regions as presented in "The Fabulous Five" wine gift basket.
With her unmistakable flair and creativity, Reva has clearly outdone herself with one of the most exclusive wine gifts we have seen to date, "The World Traveler". For $2500 the offering includes a bottle of Lafite Barons de Rothschild Collection Réserve Spéciale Premier Cru Pauillac, La Crema Russian River Valley Pinot Noir, and Veuve Clicquot La Grand Dame Brut. Additionally, in this ultimate gift created by the fusion of the classic with the contemporary, they have included the new Apple ipad. The result suggests luxury, a high-end gift that will be enjoyed sincerely and can be found exclusively at Van's Gifts. The new 2010 collection features an impressive and adventurous variety of wine gift baskets to ensure that you will find luxurious and unique gifts to give to clients and colleagues or to place under the gift tree this holiday season.
Year after year clients and friends turn to Reva Colover for her expertise on everything related to selecting gifts touched by beauty and elegance, in particular, her stylish and practical gift baskets. "Every year we count on Van's Gifts for our holiday gifts," raved one president of a Fortune 500 company. "They've never let us down and our clients are always impressed." Full of winning possibilities the Van's Gifts 2010 holiday gift catalog is a must-have for those who relish the joy of giving. A copy can be requested by calling 800-822-7538 or visiting http://www.vansgifts.com
About Van's Gifts:
Van's Gifts is a family run business supplying some of the largest corporations in America. Van's Gifts was founded in 1984 by Reva Colover, who grew the company from a small brick-and-mortar to a leader in the corporate gift-basket industry. Shipping to most states and tailoring its designs to create gift baskets of every variety, Van's Gifts specializes in sophisticated packages for birthdays, anniversaries, holidays and other occasions. Van's Gifts carries luxury brands such as Bulgari, Godiva, Dom Perignon, Lafite Rothschild, Caymus, and Veuve Cliquot, as well as other fine champagnes, wines and branded products recognized worldwide. For more information call 800-822-7538 or visit: http://www.vansgifts.com.
###