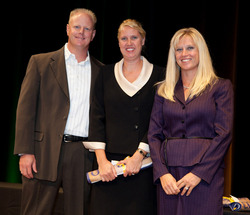 Duarte, CA (PRWEB) October 13, 2010
Mark and Meike Alberts of Peak Power Distributors, Inc. have received the Gold Leadership Award from the State of Colorado's Environmental Leadership Program.
The Colorado Environmental Leadership Program (ELP) is a voluntary program designed to recognize and reward organizations and businesses that demonstrate superior environmental performance and, as a result, consistently operate at a level that goes beyond mere compliance with environmental regulations. The program will work with Peak Power Distributors, Inc. to help promote the type of commitment and environmental performance that they use on a daily basis.
The Gold Leadership Award is the highest level of State Recognition for this program. In order to be eligible for this level the business or organization must have a clean compliance record three years prior to applying to the program along with a fully functional Environmental Management System.
Kodak Colorado and IBM Colorado are just a couple of the select few well-known companies that are also involved in this leadership program.
The Justice Brothers line of products is the most extensive line available in the market today. Top manufactures, mechanics, motorists and race teams around the world depend on Justice Brothers.
About Justice Brothers, Inc.
Justice Brothers, Inc. is a manufacturer and worldwide distributor of over 100 car care products, fleet, farm, and industrial lubricants and cleaners. Since their beginnings in the additive industry, the Justice Brothers Corporation has been an innovator in the development of new and better products to solve problems in the automotive service industry. During their over 70 years in the automotive industry, Justice Brothers has built a large and loyal customer base that encompasses quick lubes, dealerships, and independent auto stores. For more information on any of the fine Justice Brothers car care products contact Justice Brothers, Inc., 2734 Huntington Drive, Duarte, CA 91010, 1-800-835-8784, or log on to http://www.justicebrothers.com.
# # #