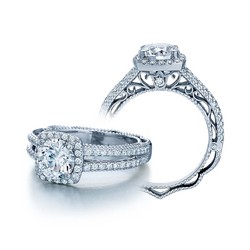 Giving away ten engagement rings to our loyal Verragio fan base is a token of appreciation for their support.
New York, NY (PRWEB) October 12, 2010
Verragio, renowned for creating engagement ring and wedding band designs that go beyond the typical ring styling to provide a unique look, has officially launched a new sweepstakes for all of their Fans on Facebook. Verragio's newest sweepstakes, which is the second installment of their "Ten Verragio Rings, Ten Weeks, Ten Winners" giveaway, allows entrants the opportunity to win one of Verragio's Top 10 selling 18K gold and diamond engagement rings every week for the next ten weeks, beginning 10-10-2010.
"Giving away 10 engagement rings to our loyal Verragio fan base is not only a token of appreciation for their support," says Barry Verragio, "But also a great way to introduce them to the newest Verragio styles and re-introduce them to some of the more classic styles on Verragio.com." From the intricate lace design of Verragio's Venetian Collection to the contoured fit of the Paradiso Collection, each engagement ring given away will feature Verragio's distinctive flair for style.
To become eligible for Verragio's engagement ring giveaway, you must become a Fan of Verragio on Facebook. Specific rules of the contest are currently posted on Verragio's Fan Page. Ten winners will be selected based on the rules of voting and announced on the official Verragio Fan Page at the close of every week.
Verragio specializes in engagement rings and wedding bands of the highest quality and beauty. Verragio is the creator of the Lumino Setting, a revolutionary setting technique that reveals all sides of a diamond, opening up every facet to light. Available in platinum, gold and palladium, Verragio offers designer engagement rings, wedding bands, men's wedding bands and eternity bands that can be seen only in carefully selected, authorized retail establishments. Verragio has been featured in fashion publications such as InStyle, Elle, Marie Claire and W magazine as well as trade publications such as INSTORE, INDESIGN and JQ.
###