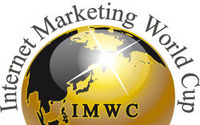 "The application process really gives us a clear picture of the caliber of competitors applying, and so far I am impressed."
Greenville, OH (PRWEB) October 13, 2010
The Internet Marketing World Cup is an innovative marketing contest that supports a level of transparency and unbiased results not commonly encountered in the Internet Marketing industry.
Why Register?
Competitors have major incentive to participate as the Internet Marketing World Cup (IMWC) is awarding US $100,000 USD to the first place winner and a total of US $250,000 to the top 20 competitors. Along with lucrative prize offers, the top 20 winners stand to benefit from Revenue Share of their winning marketing strategy. It is anticipated an average of 4,000 – 7,000 units will be sold, which could afford winners a passive income of close to US $350,000.
The IMWC has also implemented an innovative program for winners that will empower winners to make a lasting mark on the Internet marketing industry. The R.E.A. program stands for: Recognition, Exposure and Authority. Once the IMWC has concluded, marketing experts will work one-on-one with finalists through various vehicles and opportunities.
Groundbreaking Competition
"Nothing like this has been done before in the IM industry and we are working overtime to thoroughly check applicants for the truest results," share CEO Daniel Katz. "The application process really gives us a clear picture of the caliber of competitors applying, and so far I am impressed."
Limited Time for Registration
On November 21st, registration will be closed and the selection of the 100 top registrants be decided. The competitors will need to create all new blogs, affiliate tracking accounts, etc. so that reported results to can be tested for accuracy. Along with starting their marketing strategy from scratch, each competitor will create a short video diary daily of his or her progress.
About Us
The Internet Marketing World Cup (IMWC) was established in 2010 and is a marketing competition that allows complete transparency for its competitors. Sponsored by such industry giants as ClickBank, the IMWC provides a level of honesty and integrity that maintains promise of true results. Cash prizes equal US $250,000 and also include Revenue Share and the exclusive R.E.A program. Registration is open until November 21, 2010. 20% of contestants in the IMWC will win cash prizes and Revenue Share for their Internet strategies.
###