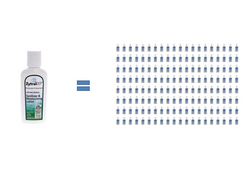 Stafford, VA (PRWEB) October 12, 2010
http://www.SeniorFamilyNetwork.com announces a unique new medical breakthrough to reduce the root cause of many infections in seniors and the population at large. ZytrelXP kills 99.9 % of germs and keeps on killing for up to four hours. Ideal for seniors and those exposed to germs on a routine basis, which includes most of the population. Seniors are particularly prone to infection. ZytrelXP can significantly help. This patented product does not dry skin, and actually heals as it protects. Germs are everywhere, but now germs have met their match. Within the first 15 seconds, Zytrel goes to work killing 99.99% of germs on contact and continues to help kill germs for up to 4 hours, without inhibiting natural flora (your body's natural good bacteria).
Ounce for ounce, the ZytrelXP Active MatrixTM lasts hundreds of times longer than alcohol-based sanitizers which only lasts for seconds while wet. It would take well over 500 bottles of alcohol-based sanitizers to match the long-lasting killing power of ZytrelXP. And…you would still need to use a moisturizer to address red, dry, and sore hands. A new study from University of Virginia confirms that alcohol based hand sanitizers are of little use for colds and flu.
Zytrel XP products complement or exceed the Center for Disease Control (CDC) standards for Clean Hand Hygiene. The antimicrobial market has been served poorly by products that have no residual staying power. This cost in lives according to the CDC is upwards of 98 thousand deaths per year. The yearly cost of these infections to the Medical Community and the Government is well over 48 Billion Dollars. .
ZytrelXP 2 in 1 Hand Sanitizer and Moisturizing Lotion was developed by hospitals especially for doctors and healthcare professionals who use sanitizers continually. If it protects them, imagine what it could do for you?
Your frontline in germ protection, ZytrelXP 2-in-1 Sanitizer/Moisturizer lotion is the first product that combines proven antibacterial killing strength with powerful moisturizers. The rich emollients and skin softeners used in ZytrelXP are clinically tested to be non-irritating so you can feel secure about protecting your hands from bacteria, redness, and chafing with antimicrobial protection that lasts up to 4 hours!
Experts are available to speak to you about your facility practice and SPECIAL INTRODUCTORY PRICING.
Green Initiative:
Help protect the environment by eliminating the need to carry bottles of both a sanitizer and moisturizer. With ZytrelXP, you only need one!
http://www.SeniorFamilyNetwork.com is a new site that has been under development for over two years. The site will be finalized within several weeks and provide the number one resource for Caregivers, Seniors', Family's and Baby Boomers. Our other sites http://www.MedicalNurseTraining.com and http://www.SaferFalls.com will also act as a single resource for these groups in the areas of fall prevention, fall protection, bed safety, accredited training and wholesale medical device training and acquisition.
###