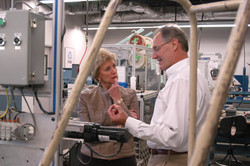 Watertown, CT (Vocus) October 13, 2010
Siemon, a leading global manufacturer of IT network cabling and infrastructure systems hosted an open house event at its Watertown, CT Corporate Headquarters and North American Manufacturing Campus. Featuring a keynote address from US Senate candidate Linda McMahon, the event hosted about 100 CT-based business leaders and telecommunications and network professionals.
In her address, McMahon called for sensible fiscal governance at the federal level, noting the soaring national deficit and its role in inhibiting growth across the private sector economy. Citing her business experience in developing and managing budgets, she expressed her goals of helping drive bi-partisan consensus to rein in government spending and highlighting the growing gap between public and private sector salaries and benefits as a symptom of the disconnect. She closed by assuring the attendees that a sustainable economy and prosperity were possible with responsible leadership.
Siemon's President and CEO Carl Siemon, also spoke at the event, providing insight on how the Siemon Company has maintained a strong and growing manufacturing presence in Connecticut for over 100 years and crediting the company's longevity to a great workforce that practices efficiency, innovation and "Connecticut Ingenuity" every day. Echoing McMahon's sentiments, he suggested that government would be well served to take some cues from private sector business, where sustainable fiscal policy is a matter of survival.
Following the luncheon event, McMahon toured Siemon's manufacturing facility, greeting a number of Siemon employees along the way. State Senator Robert J. Kane and Watertown Town Manager Charles Frigon were also in attendance.
About Siemon
Established in 1903, Siemon is an industry leader specializing in the manufacture and innovation of high quality, high-performance network cabling solutions. Headquartered in Connecticut, USA, with global offices and partners throughout the world, Siemon offers the most comprehensive suite of copper (unshielded and shielded twisted-pair) and fiber cabling systems available. Siemon's Interconnect Solutions business unit (SIS) specializes in the development of high-speed interconnects. With over 400 patents specific to structured cabling, Siemon Labs invests heavily in R&D and development of industry standards, underlining the company's long-term commitment to its customers and the industry.
Contact Information
Brian Duval
MarCom Manager
Siemon
101 Siemon Company Drive
Watertown, CT 06795
Ph: 860-945-4380
E: brian_duval@siemon.com
###