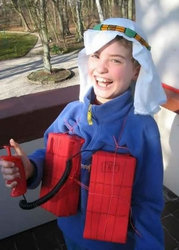 We want to make this fun for everyone, but also point out that with very little research parents can find good alternative to what's being offered in many retail environments
Coeur d'Alene, ID (PRWEB) October 12, 2010
BetterParenting.com today announced they will provide a free Halloween costume to parents who's costume choice for their kids is not in good taste, or or even illegal.
"Parents struggle to find costumes for kids and sometimes completely miss when it comes to age-appropriate costumes, or even community appropriate costumes, " says Mac Strider of BetterParenting.com. "We know there are bad costumes on the market. Parents want costumes that that both the parent and the child will enjoy without causing any long-term emotional or legal damage to parent or child." StriderContinued.
This trend was brought to light earlier this year when a popular Tea Party member complained about inappropriate costumes for kids and, noting how racy many of the girl costumes are, coined the term, "Prosti-tot."
A quick scan through the local drug store costume isle reveals some pretty unsavory "child" costumes - from short-skirt witch costumes who's skirts are too revealing for most 7 yr olds, to baby costumes flush in blood colored ink and simulated innards.
BetterParenting.com has posted on their website some of the most terrifying and age-inappropriate costumes ever seen. 10 costumes that would shock most parents and leave some incapacitated for days. These costumes range from a 5 yr old Hitler standing in front of an oven, to a family all wearing "nude" costumes - complete with parts.
"We feel these set a pretty low benchmark for costumes in bad taste" stated Strider "Any costume that can compare with such a low standard, or even set a new low, well, these parents deserve a new costume for their kids" said Strider.
Getting the freebie costume is simple. Just take a picture of your child in their Halloween costume and submit it to the website. Costumes will be judged on a variety of factors, not the least of which are, good taste, age-appropriateness and bigger questions like - is it legal, ethical, or just plain raunchy.
"We want to make this fun for everyone, but also point out that with very little research parents can find good alternative to what's being offered in many retail environments." Said Strider He added, "If little Susieis being mocked at school for her"hooker" costume then that simply does not create a fun holiday for anyone, not to mention that such a costume land mommy and daddy in big trouble."
To view all the contest costumes head over to BetterParenting.com and then start clicking pictures of your kids in their worst costumes. You can submit your pictures to jason(at)betterparenting(dot)com The contest runs through 10/22/2010
# # #