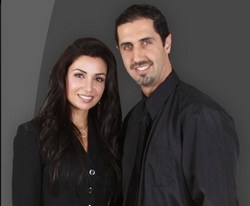 #1 Provider of Invisalign for Ventura County
Los Angeles, CA (PRWEB) October 12, 2010
Thousand Oaks Dentistry is proud to announce that they are the #1 provider of Invisalign invisible braces for Ventura County, CA. "So many patients come to us for orthodontic solutions and are very pleased to learn that there is now an amazing alternative to traditional braces, "says Dr. Dar Radfar. Adults are especially excited when they find out about the Invisalign option and technology.
Upon your initial visit to either the Thousand Oaks or Oxnard office, Drs. Dar Radfar and Georgia Haddad will sit down with you and discuss your smile goals. The first thing that you can expect is that a complete set of x-rays will be taken of your teeth allowing the doctors to have a clear picture of the general health of your teeth and gums in order to plan the road to your perfect smile. Upper and lower molds of your teeth are then sent to and loaded into Invisalign's software program which lays out a personalized treatment program for each patient. The treatment plan is then transferred into custom sets of trays or "aligners" for your treatment. This is one of the easiest processes a patient will experience because it's just a matter of wearing your aligners for two weeks at a time, then returning to the dentist office and exchanging your aligners for the next set. Often, Drs. Radfar and Haddad give busy patients a couple of aligners at each visit to minimize the number of visits to the office. "There really is no discomfort involved in this process, it's more like your teeth get a nice tight hug every few weeks as they are moving toward the next position," states Dr. Haddad.
Dr. Radfar explains, "The thing that our patients love so much about Invisalign invisible braces is that they have the freedom to remove them when they eat or when they brush and floss their teeth. Many of our patients tell us that no one even realizes that they are wearing the aligners and are pleasantly surprised to learn how Invisalign's amazing technology is moving their teeth. Another benefit of Invisalign braces is that you can also use your trays for teeth whitening products as well. When a patient decides to treat with Invisalign at Thousand Oaks Dentistry, they receive free teeth whitening for life and free clear retainers at the end of treatment!"
For more information on treating with Invisalign invisible braces, and a complimentary consultation visit: http://www.toaksdentist.com/invisalign/.
###