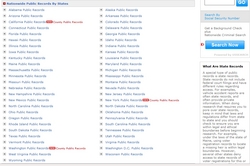 Publicrecordfinder.com simplifies the search process by aggregating data from hundreds of offline and online resources that make public records easier to find.
Bellevue, WA (PRWEB) October 12, 2010
Publicrecordfinder.com, an online public records search site, has just published the following consumer resource guide that helps consumers become aware of what public records can offer and how they can make use of these powerful tools that contain vital information.
The government, at all levels, records every important event, transaction, and litigation concerning its citizens. In the United States, there is no centrally available database where all of these public records are integrated. Most of the critical information sought is recorded in a variety of public records that are maintained in different databases across agencies, states and cities, and includes information such as:

Bankruptcies
Marriages and divorces
Births
Civil judgments
Criminal convictions
Previous and current addresses
Aliases
Property records
While many consumers use search engines to find sources for the billions of records that are available in federal, state and local databases, this approach takes a lot of time and effort to find results that may or may not be accurate, comprehensive or up to date. Publicrecordfinder.com simplifies the search process by aggregating data from hundreds of offline and online resources that make public records easier to find. This information helps users assess a person's reputation, find assets, identify affiliations or relationships, uncover evidence of legal problems or conduct research on just about anything that pertains to that person. Publicrecordfinder.com's lists are updated monthly.
The following resource guide provides an overview of what may be available in a public records search to make it easier for consumers to find people and people-related information.
Publicrecordfinder.com's Consumer Guide To Public Records
Public records are government records. Generally, real estate records, court records, including bankruptcies, liens and judgments, professional licenses, intellectual property filings and business records, such as business filings, public company filings and UCCs, are public record. Federal or state law determines what is a public record. Because the laws of the 50 states vary, what is public in one state may not be in another. For example, under Maine law, voter registration records may be used to locate a missing heir. But records cannot be accessed for this, or any other non-political purpose, in several other states. Similarly, records can be searched for misdemeanors or felonies, but a state's criminal repository – the agency responsible for maintaining criminal histories – may bar access to official rapsheets.
Information that is not part of a public record might become public through several legitimate means. A person might volunteer it. Those with a public telephone number choose (by accepting a public listing) to publish it. One of the more common ways private information becomes public, though, is through disclosure in a public record. Bankruptcies and divorce filings typically contain private information. Vehicle accident reports sometimes provide vehicle identification numbers (VIN), license plate numbers.
State Records
Most every state capital has a repository for records from all its counties, as well as a collection of records from state-level departments and agencies.
Records from Vital Statistics move up to the Department of Health, Bureau of Vital Statistics.
Court records are included with the records of the Department of Justice, State Supreme Court.
The Secretary of State's office is the central repository for a variety of records, including the Department of Motor Vehicles (or "DMV" as it is known); one of your best sources for locating people. Also included in the Secretary of State's records are various records regarding business and financial licenses and judgments, including corporation and Uniform Commercial Code (UCC) filings, plus information about worker's compensation cases. These are often, although somewhat restricted, free public records.
Federal Records
At the federal level, U.S. Government records are maintained in a number of depositories and government departments. The two largest are The Library of Congress, the nation's mega library, and The National Archives, a vast repository of government records and census takings.
The Interstate Commerce Commission and the Securities & Exchange Commission keep extensive records about public companies.
Public records contain a wide variety of information across a number of different categories. The following outlines the most common searches for public records and how this information can benefit the consumer.
Criminal Records
Criminal records historically have been the most searched for public record. According to US Legal.com, a criminal history background information check is the review of any and all records containing any information collected and stored in the criminal record repository of the Federal Bureau of Investigation, the state Department of Public Safety, or any other repository of criminal history records, involving a pending arrest or conviction by a criminal justice agency, including, but not limited to, child abuse crime information, conviction record information, fingerprint cards, correctional induction and release information, identifiable descriptions and notations of convictions; provided, however, dissemination of such information is not forbidden by order of any court of competent jurisdiction or by federal law. Criminal history background information generally does not include any analytical records or investigative reports that contain criminal intelligence information or criminal investigation information.
A criminal history background information check is governed by federal and state laws, which vary by state, and may be required by statute for certain positions of public employment, especially for positions working with children, the elderly, or disabled. The federal National Child Protection Act authorizes state officials to access the FBI's National Crime Information Center (NCIC) database for some positions. State employment laws may limit the questions an employer includes on a job application. Private employers may conduct a criminal history background information check for any number of positions in their discretion.
Property Records
Public records provide vital information that could help consumers make intelligent decision in the process of finding and purchasing property. Before committing to making an offer to purchase a property, it is wise for consumers find out as much information as possible about the property including researching any public records that are available that might uncover any issues. Public Records help buyers, real estate agents, mortgage professionals and others find vital information about homes and real estate by simply entering the address of the property to find the registered owner and links to any public record information that may include foreclosure, bankruptcy or liens.
Directory Information
Public records contain vital contact information such as phone numbers, addresses, email addresses and cell phone numbers to help consumers connect with others. Consumers can benefit from accessing public records in the following ways:
Find out if an address is residential or a business
A user may have a person's telephone number and needs their address
Confirm an address
Want to send a letter or some correspondence and don't know the zip code
Have an address but need to look up the number
Conduct a background check on a new neighbor and don't have their name
In summary, public records provide numerous people with a wide range of assistance. However, the topics listed above are only a fraction of the uses to which public records can be put. No matter whom you need information about or why, chances are these records can help.
About
Publicrecordfinder.com is a leading provider of consumer and enterprise services that enable users to search for and find online public records. Publicrecordfinder.com's Public Records Search provides access for a fee to an instant report that may include phone, date of birth, relatives, address, average home value, marriage/divorce records and more. Its access to more detailed Background Check feature enables users to search individuals to get a complete background summary that includes information from criminal checks, sex offender checks, bankruptcies, contact information, property information and more.
Contact
For more information on publicrecordfinder.com please contact prpublicrecordfinder.com.
###