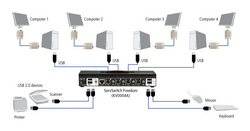 With ServSwitch Freedom, you can simultaneously create e-mails on one system, listen to audio on a second, print from a third computer, and scan documents on another
Lawrence, PA (PRWEB) October 12, 2010
Black Box Corporation (NASDAQ:BBOX), an industry-leading provider of voice communications,data infrastructure and networking products today announced the launch of its new ServSwitch™ Freedom™, a next-generation keyboard-video-mouse (KVM) solution that enables users in command-and-control environments to operate up to four individual CPUs with a single keyboard and mouse. Featuring Black Box's exclusive Glide and Switch technology, ServSwitch Freedom automatically switches the user's mouse and keyboard control from one system to another simply by rolling the mouse cursor to the desired monitor, similar to an extended desktop operation.
"The Freedom is ideal for command and control centers, such as E911 operations and financial trading desks where immediate access and the ability to switch instantly between multiple systems is required," said Mike McCurry, product manager for ServSwitch KVM at Black Box. "With Freedom, moving to another machine is as simple as moving the mouse, eliminating the need for multiple keyboards and mice, which not only clears up desktop space, but saves a great deal of time and money."
The ServSwitch Freedom features a flexible, four-port, professional-grade switch that also supports quick-fire switching via hotkeys or front-panel buttons, in addition to the mouse roll. The Freedom even supports audio switching to activate the native stereo sound on the workstation currently in use. Two independent USB 2.0 ports enable a single user to share USB peripherals and conduct file transfers between the multiple systems.
"With ServSwitch Freedom, you can simultaneously create e-mails on one system, listen to audio on a second, print from a third computer, and scan documents on another," McCurry said. "Imagine the productivity improvements you can achieve by conducting multiple operations at the same time without draining system resources on any one machine."
With Black Box's Glide and Switch technology, system setup is as simple as connecting the workstations to the Freedom and configuring the Glide and Switch application to recognize the desired location of each screen—in either panoramic or a 2x2 matrix mode—with drag-and-drop simplicity. Individual screen resolutions can be adjusted for each screen.
The ServSwitch Freedom works with both desktop and laptop machines running any known software and operating system with plug-and-play ease, minimal setup, and no software to install on the connected machines.
At $495.95 list price, the ServSwitch Freedom includes free Tech Support for as long as you own the switch and is backed by Black Box's two-year warranty.
To learn more about how the ServSwitch Freedom can boost productivity and save both time and money for command-and-control applications, visit http://www.blackbox.com/go/ServSwitchFreedom.
About Black Box
Black Box is a leading technical services company dedicated to designing, building, and maintaining today's complicated data and voice infrastructure systems. Black Box services more than 175,000 clients in 141 countries with 194 offices throughout the world. The 34-year-old company is headquartered in Pittsburgh, PA. To learn more, visit the Black Box Web site at http://www.blackbox.com.
# # #