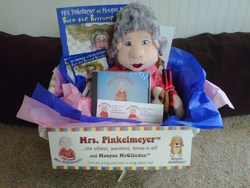 I lay awake at night thinking what can I, as a small business owner do to make a difference in the lives of children.
Boca Raton, FL (Vocus) October 12, 2010
Mompreneuer Jennifer Kelman has begun a crusade and hopes that it will catch on like wildfire. As the holidays are fast approaching many charities begin their annual giving drives. So often these requests are sent in the mail and discarded without even a first look. Jennifer is bothered by how hard charities need to work in order to raise enough money to give back to their communities.
She is cognizant of the difficult times that many people have faced due to the economy, and this makes it especially hard for charities to reach their yearly goals. "I lay awake at night thinking what can I, as a small business owner do to make a difference in the lives of children." That was another one of Ms. Kelman's ah ha moments. She became consumed with trying to find alternate ways that could benefit children's charities. Sure there is the standard way of making a cash or in kind donation and she has done that both personally and in the name of Mrs. Pinkelmeyer, sending Pinkelmeyer gift baskets to several charities, but she wanted to reach her customers and enlist them in her quest.
Jennifer decided that since she has founded a company for children, she wanted to make her products affordable to customers to purchase additional items at a lower price to be given to the charity of their choice. She also wanted to make it as easy as possible on her customer by sending the gift with a note to the charity of choice.
There is no greater joy in giving to others and no greater reward than to see a child's face light up with joy when receiving a gift that they may have otherwise never received. Jennifer's crusade is to get other business owners to follow suit with their customers. "It is not just about selling to my customers, it is about giving back. If people want to take this idea to another business and purchase items from them to be donated, I am okay with that. I just want charities to benefit from the kindness and wonderful spirit of all of us."
Won't you please join Jennifer and Mrs. Pinkelmeyer on their holiday giving crusade? It is but a small gesture with huge rewards. Contact your local businesses both on and off line and tell them Mrs. Pinkelmeyer sent you.
###